What Leads to Yield Curves Flattening
Factors leading to yield curves flattening There are multiple factors that can affect the shape of yield curves. Bonds (BND) with different maturities react differently to changes in economic conditions and expectations. For example, when the US Fed announces an interest rate hike, short-term bonds (SHY), which are to the left side of a yield curve, react […]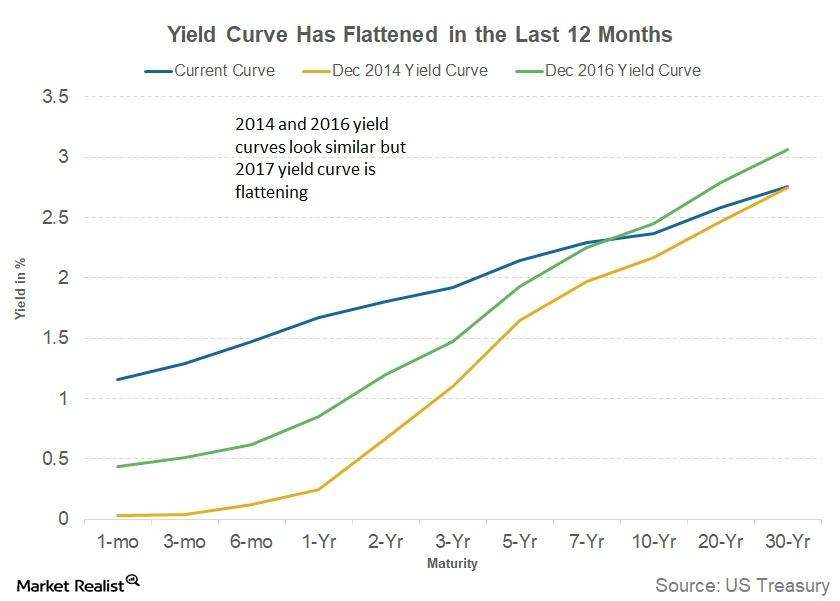 Factors leading to yield curves flattening
There are multiple factors that can affect the shape of yield curves. Bonds (BND) with different maturities react differently to changes in economic conditions and expectations. For example, when the US Fed announces an interest rate hike, short-term bonds (SHY), which are to the left side of a yield curve, react immediately to the announcement.
Longer-term bonds, which are towards the right end of a yield curve, also react to interest rate hikes, and reflect investors' risk appetite and expectations of economic growth and inflation (TIP). A difference in expectations could lead to a steep, flat, or inverted yield curve.
Article continues below advertisement
Article continues below advertisement
Differing expectations for the future
As shown in the chart above, the US Fed started increasing interest rates in January 2016. It is on track to increase rates for the third time this month, and another three times next year. Whereas short-term rates have increased in all three yield curves, long-term rates (TLT) have not changed, leading to a flatter yield curve this year.
Why is the yield curve flattening?
The Fed started its monetary tightening in January 2016, and has since increased interest rates five times. The Fed is expected to announce another rate hike at its December meeting, and has indicated that there could be three more hikes in 2018. The problem here is with inflation expectations. US inflation has been lagging recently, and if it remains low, the market could expect the Fed to refrain from future rate hikes. Longer-term (TMV) yields would not move higher, leading to yield curve flattening. In the next part of this series, we'll take a closer look at the primary reason for yield curve flattening.