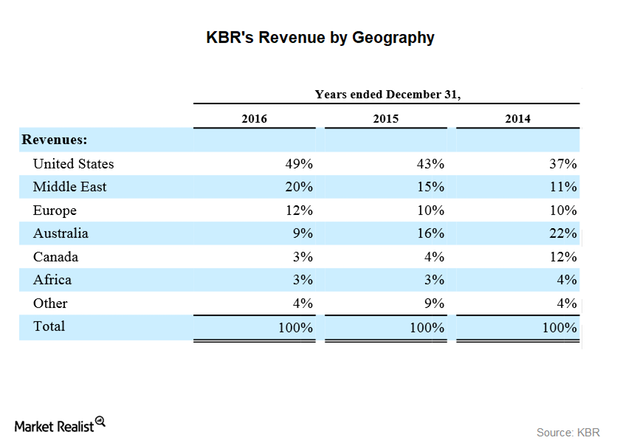 More about KBR's Major Clients
Clients and their sectors
KBR (KBR) has a diverse customer base. According to KBR, its customers are "domestic and foreign governments, international and national oil and gas companies, independent refiners, petrochemical producers, fertilizer producers and manufacturers."
Revenue from overseas operations represented 63%, 57%, and 51% of KBR's total revenue in 2014, 2015, and 2016, respectively. In this part, we'll look at the clients that contribute a major part of KBR's revenue.
Article continues below advertisement
North America
KBR generated significant revenue from the US government and Chevron (CVX). On April 13, 2017, KBR signed a long-term contract with Chevron. According to the deal, KBR will provide engineering and procurement services to Chevron for ten years. Services will be provided in multiple locations globally. KBR was awarded another Chevron project, the Gorgon project, in 2005. ExxonMobil (XOM) and Imperial Oil (IMO) are among KBR's prominent oil and gas (XLE) customers in North America.
Europe, the Middle East, and Africa
KBR's major clients in the EMEA (Europe, the Middle East, and Africa) region are the UK Ministry of Defence, Saudi Aramco, The Dow Chemical Company, and Lloyds Energy. In 2016, KBR received long-term contracts from the UK Ministry of Defence to provide services to its military flying training system and army basing programs. Together, the contracts have a value of approximately $1 billion.
Asia-Pacific
KBR's Asia-Pacific clients include Gateway South (a joint venture between Fulton Hogan and Laing O'Rourke), SA Water, and the State Oil Company of the Azerbaijan Republic (or SOCAR).
On November 30, 2017, KBR was awarded a contract by Indian company Rashtriya Chemicals & Fertilizers to re-equip the company's ammonia facility. Visit our Industrial page for financial updates on KBR.