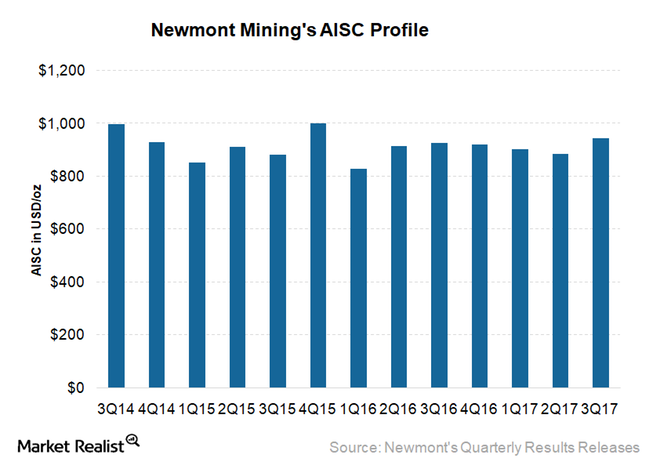 Investors Might See a Bump in Newmont's Costs in 2018 before Improving
NEM's cost reduction
Newmont Mining (NEM) has delivered more than $1.5 billion in full potential improvements, which translates into a 22.0% reduction in all-in sustaining costs (or AISC) since 2012.
Since then, the company has started divesting non-core, high-cost assets and reinvesting the funds in high-quality, low-cost assets. This has also led to lowering of the company's overall unit costs.
Article continues below advertisement
Cost bump in 2018
For 2017, Newmont Mining (NEM) had improved its AISC guidance from $940–$1,000 per ounce to $900–$950 per ounce in its 2Q17 results. Newmont, however, sees a bump in the costs in 2018 when it expects them to increase to $965–$1,025 per ounce. This increase is due to the working off of higher stripping at Carlin, Boddington, Ahafo, and Twin Creeks.
The company sees costs coming down again in 2019 as it brings its new low-cost mine, Subika Underground, online. NEM could also reach higher grades at its key operations, which would help lower its costs.
Newer production at lower costs
Newmont Mining (NEM) is expecting its newest mines to add production at just $750 per ounce. This new production should replace the maturing production and add additional production at low costs, which could help the overall cost profile for the company.
Newmont Mining isn't unique in bringing down costs. Among its peers (GDX)(RING), Barrick Gold (ABX), Goldcorp (GG), Agnico-Eagle Mines (AEM), and Yamana Gold (AUY) have also brought down their costs considerably over the past year.