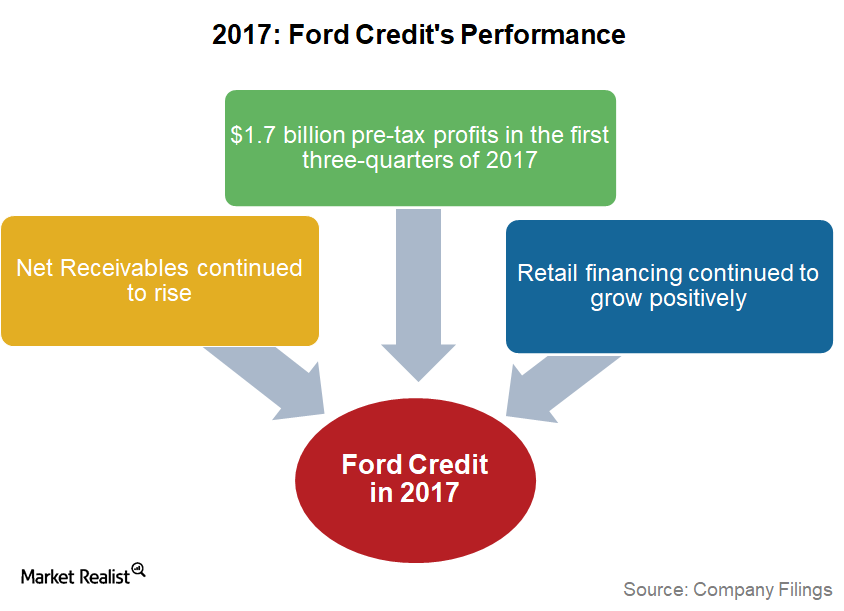 Ford Credit's Performance in 2017
Ford Credit
Ford (F) has many types of vehicles, ranging from small cars to large trucks, in its product lineup. Most of its portfolio is targeted towards the mass market. To encourage auto buyers to purchase Ford vehicles, the company provides automotive financing services through Ford Credit. Let's take a look at Ford Credit's performance in fiscal 2017.
Article continues below advertisement
2017 performance
In 1Q17, Ford Credit's net receivables were at $133 billion—6% higher than $126 billion in the same quarter of the previous year. For the quarter, the company's managed receivables rose 6% YoY (year-over-year) to $140 billion. Ford suggested that continued growth in retail financing is a key reason for an increase in its credit division's receivables.
In the second and third quarter of 2017, Ford Credit's net receivables also stood firm at $135 billion and $138 billion, respectively. These net receivables reflected a positive YoY growth of ~5% and 8% in 2Q17 and 3Q17, respectively.
Profitability improved
In the first three quarters of 2017, Ford Credit's pre-tax profits were at $1.7 billion, which was ~15% higher than the same period the previous year. The higher profits were primarily due to a 55% increase in pre-tax profits in 2Q17 due to disciplined and consistent underwriting practices. Despite the minor fall in Ford Credit's profits in 1Q17, its overall performance has been strong in 2017.
Other major automakers (XLY) like General Motors (GM), Toyota Motor (TM), and Volkswagen (VLKAY) also provide financing facilities to their customers. They have their own financial services arms.
Next, we'll discuss the possible changes in Ford's pension obligations.