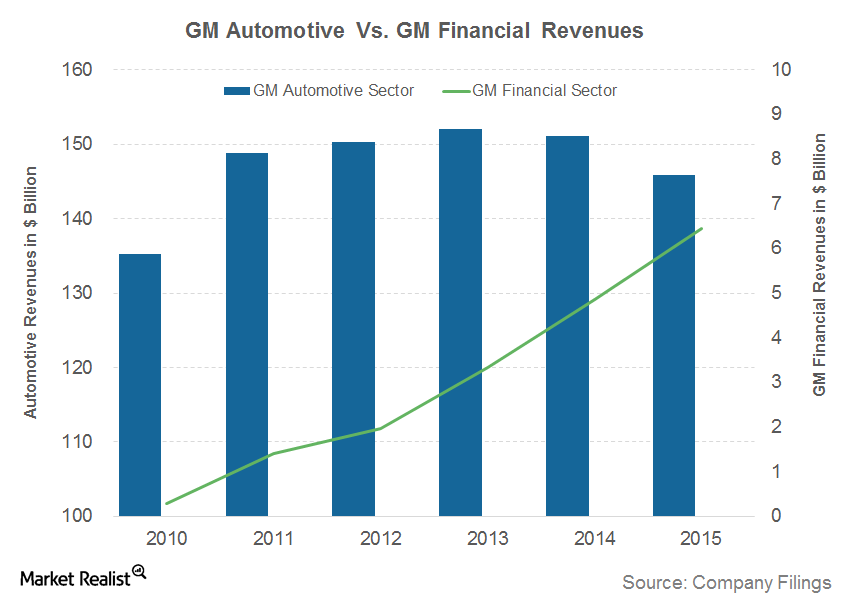 How GM Helps Customers Buy Vehicles through GM Financial
By Jitendra Parashar

Mar. 17 2016, Updated 11:05 a.m. ET
GM Financial Company
Previously, we looked at how North America, Europe, and China are key markets for General Motors (GM). In this article, we'll explore how General Motors Financial Company, the financing arm of GM, is helpful in generating more sales volume.
Article continues below advertisement
Importance of GM Financial
General Motors has all types of vehicles ranging from small cars to large trucks. The majority of its portfolio is targeted to the masses. To encourage people to purchase its vehicles, the company provides automotive financing services through General Motors Financial Company.
GM Financial offers retail lending, both loan and lease, to its customers. Additionally, the company provides new and used vehicle inventory financing, inventory insurance, working capital, capital improvement loans, and storage center financing services to its dealers. This facility is known as commercial lending.
The financing arm of the company provides its services primarily in North America, Europe, China, and South America. At the end of 2015, GM Financial had 50 facilities globally. Of these 50 facilities, 22 are located in the United States.
Other major facilities outside the United States include those in Brazil, Canada, China, Germany, Mexico, and the United Kingdom.
Functioning and funding
To avoid currency fluctuation–related risks in international markets, General Motors Financial funds its operations primarily from local sources. These sources include asset-backed securities markets and other secured and unsecured debt markets. In 2015, revenues from GM Financial stood at $6.4 billion, 4.2% of General Motors' total revenues.
The company expects its revenues from this financing arm to expand in the coming years and to drive incremental sales of its vehicles. GM Financial plays an important role in boosting GM's sales volume by ensuring easy availability of financing options to its customers and dealers.
Among other major automakers (FXD), Ford Motor Company (F), Toyota Motor (TM), and Volkswagen (VLKAY) also provide financing facilities to their customers and have their own financial services arms.
Continue to the next article to learn about how General Motors is doing in terms of global market shares with the help of recent data.