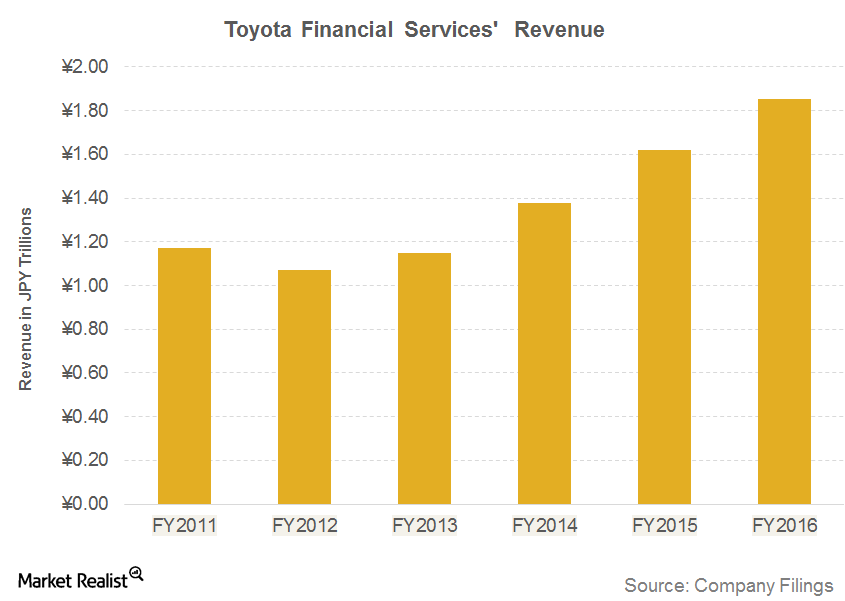 Toyota's Financial Services Segment and Its Automotive Business
Toyota Motor Corporation
Previously in this series, we looked at the factors that may impact Toyota's (TM) margins going forward. Now, we'll explore how Toyota Financial Services (or TFS), the financing arm of the company, is helpful in generating more sales volume.
Article continues below advertisement
Toyota's financial services
Toyota manufactures a wide variety of vehicles, ranging from small cars to large trucks in its portfolio. The majority of its portfolio is targeted to the general public. To encourage consumers to purchase its vehicles, the company provides automotive financing services through Toyota Financial Services Corporation.
TFS, a wholly owned subsidiary of Toyota Motor Corporation, was established in July 2000. The company outlined three primary goals behind the establishment of TFS:
strengthen the overall competitiveness of its financial business
improve risk management
streamline the decision-making process
TFS offers various vehicle and payment protection products to Toyota customers and dealers. These products include flexible lease and finance plans, vehicle and payment protection, and insurance products.
Currently, TFS operates various financial services companies in 35 countries and regions to support its global automotive operations.
Recent performance
In fiscal 2016, which ended March 31, 2016, TFS's net revenues stood at 1.9 trillion Japanese yen, or about ~$17.4 billion. This is 14.2% higher than its fiscal 2015 revenues of 1.7 trillion yen, or about $15.6 billion.
However, TFS's EBIT (earnings before interest and tax) decreased by 6.2% YoY (year-over-year) in fiscal 2016. The company attributed this decrease in operating income to a decrease in valuation gains on interest rate swaps.
In the last five fiscal years, Toyota's Financial Services's revenues have grown by 73%. Rising revenues for the TFS segment reflects optimism in Toyota's overall sales pattern. As long as the company continues to improve its retail vehicle sales, investors can probably expect this positive trend in TFS revenues to continue.
Major automakers (IYK) such as General Motors (GM), Ford (F), and Volkswagen (VLKAY) also provide financing facilities to their customers and have their own financial services divisions.
Read the next article to learn about Toyota's research and development expenses.