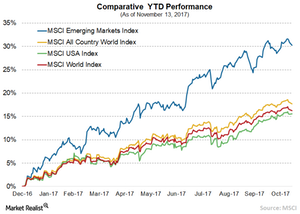 Why Emerging Markets Are Rallying
2018 Investment Themes 
Jan van Eck, CEO, shares his 2018 investment outlook.
Article continues below advertisement
VanEck
TOM BUTCHER: What do you see as some of the biggest investment opportunities in 2018?
JAN VAN ECK: There are many things we have to talk about: Where can you make money? What's going on with China? What's going on with Bitcoin?
Emerging Markets are Thriving in 2017 and Should Continue to do so in 2018
Let us start with the biggest opportunity for potentially making money. I think it lies in emerging markets equities. As we entered 2017, U.S. equities had done so well for five years that people were underweight international and emerging markets. They have outperformed this year pretty dramatically. However, we think it is still early innings for emerging markets equities. It is just such a different asset class today from what it was five years ago. You should not even use the same words to describe it. Now almost 70% of many emerging markets indices is targeted towards Asia. It is almost an "Asia regional fund" because of China, India, Korea, and Taiwan. All these countries have become such a big weighting. Another reason we think it is a great opportunity is that cash flow for Asian stocks in 2018 is expected to grow 50%. That's just a tremendous cash "gusher" and we think will be reflected in stock prices. (Read October 13 blog post for more on emerging markets equities: Strong Earnings Fuel Emerging Markets Rally.)
Article continues below advertisement
Market Realist
Strong rally in emerging markets
Even as the equity markets in the US are recording higher highs on a continuous basis this year, EMs (emerging markets) (VWO) are also on pace to post record gains. YTD (year-to-date), the MSCI Emerging Markets Index is up 30.3%, far ahead of the MSCI ACWI (All Country World Index), the MSCI World Index, and the MSCI USA Index, which posted gains of 17.7%, 16.2%, and 15.6%, respectively.
Tailwinds driving emerging markets
There are a lot of reasons behind the sharp rally in EMs (SCHE). The prominent reason is that the GDP growth in many of these nations has improved in the last few quarters partially on the back of the rise in commodity prices like copper and oil. Countries like Brazil, Russia, and Indonesia heavily depend on commodities for their economic growth. On the other hand, stocks in countries like China and India are rising due to ongoing financial reform that is likely to lead to improvement in business prospects.
Article continues below advertisement
Another factor that is driving EM indexes to a higher growth trajectory is their heavy reliance on technology stocks, which have witnessed sharp upside this year. For example, the MSCI EM Index has a weight of 28.5% in the technology sector compared to 24.5% for the S&P 500 index (SPX-INDEX) (SPY). The rise in EM tech stocks helps boost the overall returns from these countries.
Attractive valuations
Despite sharp gains, EMs are still trading at attractive valuations compared to many developed countries. The MSCI Emerging Markets Index is trading at a one-year forward earnings of 12.7x compared to 17x for the MSCI World Index, 16.3x for the MSCI ACWI, and 18.40x for the MSCI USA Index. On a price-to-book-value basis, the MSCI EMs Index is trading at 1.80x compared to 2.42x for the MSCI World Index, 2.32x for the MSCI ACWI, and 3.24x for the MSCI USA Index.
In this series, we'll discuss the themes that are likely to shape up the investment horizon for the next few years.