Copper Bulls Took a Back Seat in November
Copper bulls had a nice run since July. Copper underperformed several industrial metals in 1H17. However, copper has been on an uptrend in 2H17.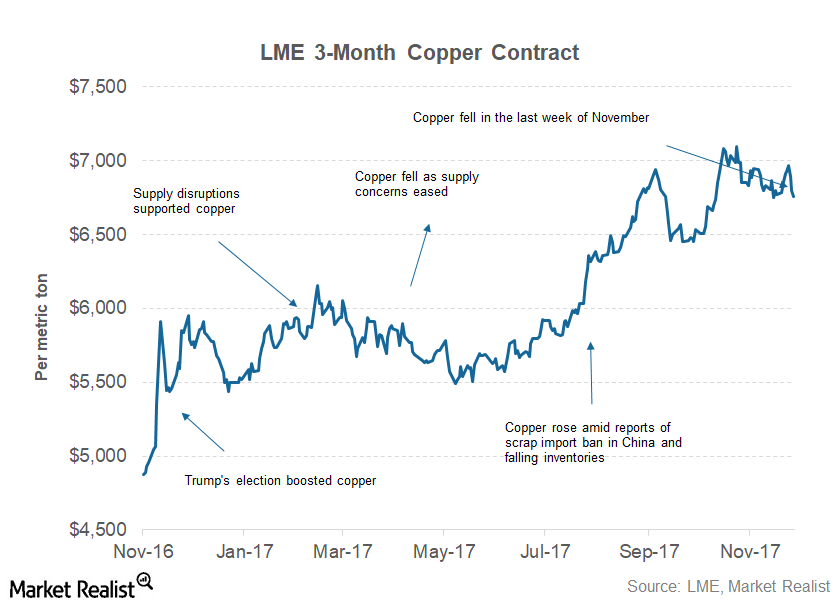 Copper bulls
Copper bulls have had a nice run since July. Copper, which underperformed several industrial metals including aluminum in 1H17, has been on an uptrend in 2H17. As we noted in the previous part, copper prices closed almost flat last month. In this part, we'll look at some of the factors that weighed on copper in November.
Article continues below advertisement
Article continues below advertisement
Concerns about Chinese demand
Since China is the world's largest copper consumer (FCX) (RIO), the country's demand tends to impact copper prices (DBC). At the beginning of 2017, several analysts were bearish on Chinese copper demand. However, China's economic activity surprised on the upside in 2017. Some of the recent economic indicators from China haven't been encouraging. China's October industrial production, fixed asset investment, and retail sales data were lower than expected.
China's copper imports data also disappointed markets last month. China imported 330,000 metric tons of unwrought copper and copper products in October—compared to 290,000 metric tons in the same month last year. Although China's unwrought copper imports rose on a year-over-year basis in October, they fell 23.2% compared to September to the lowest level since April 2017.
Copper is known for its supply uncertainty on issues ranging from labor disputes to regulations. Last month, there were labor-related issues at mines owned by BHP Billiton (BHP) and Southern Copper (SCCO). However, the slowdown in demand looked like the dominant theme in November.
In the next part, we'll look at the key data points that copper investors should follow in December.