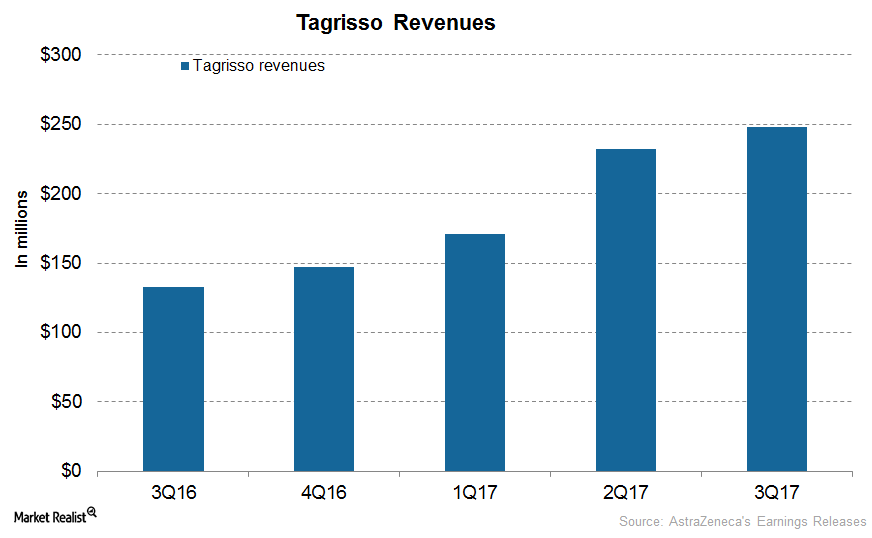 AstraZeneca's Tagrisso Witnessed High Growth in 3Q17
By Daniel Collins

Dec. 19 2017, Updated 9:02 a.m. ET
Tagrisso's revenue trends
In 3Q17, AstraZeneca's (AZN) Tagrisso generated revenues of $248.0 million, which reflected ~86.0% growth on a year-over-year (or YoY) basis and 7.0% growth on a quarter-over-quarter basis. Tagrisso reported 9M17 revenues of $651.0 million.
Article continues below advertisement
Tagrisso's approvals
Tagrisso is used for the treatment of locally advanced or metastatic EGFR (epidermal growth factor receptor) T790M mutation-positive non-small cell lung cancer (or NSCLC) in adults.
In October 2017, the FDA granted AstraZeneca's Tagrisso a Breakthrough Therapy Designation (or BTD) for first-line therapy of individuals with metastatic EGFR mutation-positive NSCLC.
The FDA's Breakthrough Therapy Designation to Tagrisso was based on the results of the Phase 3 FLAURA trial.
In November 2017, the European Medical Agency (or EMA) accepted AstraZeneca's variation to the Marketing Authorization application (or MAA) for Tagrisso for first-line therapy of adults with metastatic NSCLC whose tumors showed EGFR mutations.
In November, AstraZeneca also submitted a supplemental new drug application (or sNDA) to Japan's Pharmaceuticals and Medical Devices Agency for the use of Tagrisso. This use of the drug showed clinical activity against central nervous system metastasis as a first-line therapy for individuals with inoperable or recurrent EGFR mutation-positive NSCLC.
Article continues below advertisement
Phase 3 FLAURA trial
AstraZeneca conducted the Phase 3 FLAURA trial, which evaluated the safety and efficacy of Tagrisso 80mg in previously untreated patients with metastatic EGFR-mutated NSCLC compared to standard-of-care TKIs (tyrosine kinase inhibitors) erlotinib or gefitinib.
In the FLAURA trial, patients on Tagrisso therapy demonstrated progression-free survival (or PFS) of 18.9 months compared to 10.2 months for patients on the current standard-of-care (erlotinib or gefitinib). The superior data from the clinical trial is expected to strengthen Tagrisso's commercialization capabilities.
In the NSCLC drugs market, Tagrisso's peers include Roche's (RHHBY) Tarceva, Boehringer Ingelheim's Gilotrif, Eli Lilly's (LLY) Cyramza, and Bristol-Myers Squibb's (BMY) Opdivo. In 3Q17, Tarceva, Cyramza, and Opdivo reported revenues of $202.0 million, $171.0 million, and ~$1.3 billion, respectively.
AstraZeneca comprises ~0.19% of the Vanguard FTSE Developed Markets ETF's (VEA) portfolio holdings.