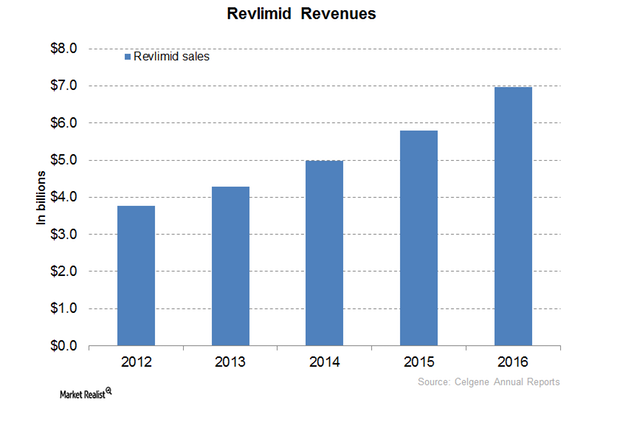 Revlimid Could Continue to Drive Celgene's Revenue Growth in 2017
Revlimid revenue trends
In 2016, Celgene's (CELG) Revlimid generated revenues of around $6.9 billion, which reflected a ~20% year-over-year (or YOY) growth. In 1Q17, the drug reported revenues of around $1.9 billion, which is ~20% YoY growth and 4% quarter-over-quarter growth.
During 1Q17, Revlimid witnessed 24% YoY growth in the US and 4% quarter-over-quarter growth in revenues. A solid rise in new prescriptions as well as refill prescriptions has resulted in strong revenue growth for Revlimid in 1Q17. The drug also witnessed 13% YoY growth in revenues earned from international markets in 1Q17. In 1Q17, the drug's international sales volume witnessed 22% YoY and 13% quarter-over-quarter growth.
The above graph represents the revenue curve of Revlimid from 2012 to 2016.
Article continues below advertisement
Revlimid's growth drivers
In 1Q17, Revlimid witnessed significant growth in market share among the newly diagnosed multiple myeloma (or NDMM) market outside the US, especially in Japan and Europe. Celgene has also received National Specialized Commissioning Team (or NSCT) reimbursement for Revlimid in 20 countries.
In February 2017, the US Food and Drug Administration (or FDA) approved Revlimid as maintenance therapy for multiple myeloma patients who had post autologous hematopoietic stem cell transplant (or ASCT). Presently, Revlimid remains the first and only drug licensed for maintenance therapy for NDMM patients post ASCT. These regulatory approvals may boost the revenue growth of the drug. Celgene anticipates that Revlimid may generate revenues in a range of $8 billion to $8.3 billion in 2017. The success of Revlimid may boost the share prices of the PowerShares QQQ (OQQ). Celgene accounts for ~1.4% of QQQ's total portfolio holdings.
The company is pursuing various clinical trials for label expansion of Revlimid. Celgene has already started phase 3 MAGNIFY trial to evaluate a combination of Revlimid with rituximab for relapsed/refractory follicular, and mantle cell and marginal zone lymphoma.
Celgene's Revlimid faces stiff competition from Takeda Pharmaceuticals (TKPYY) and Johnson & Johnson's (JNJ) Velcade, as well as Amgen's (AMGN) Kyprolis.