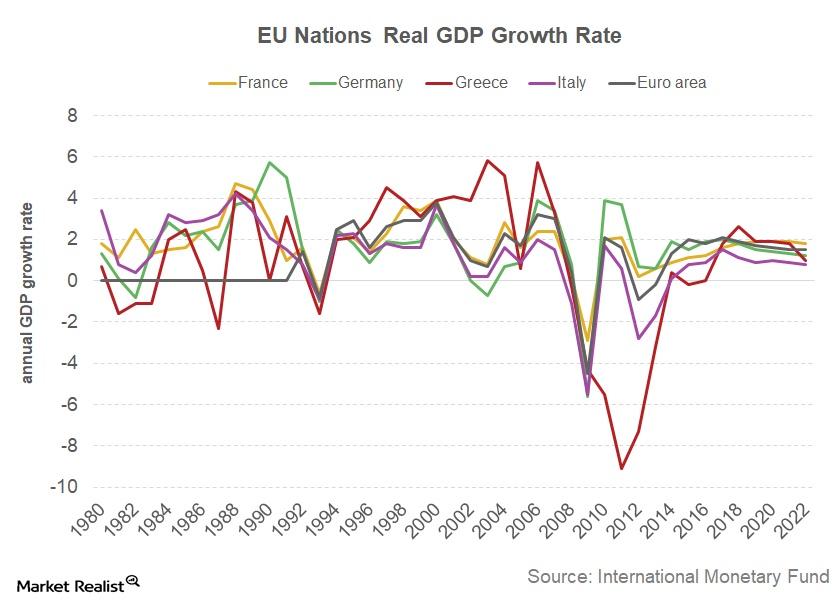 Why the IMF Upgraded Its Eurozone Growth Forecast
Growth projections for the Eurozone revised higher
The International Monetary Fund (or IMF) has upgraded its growth projections for Eurozone countries, including France, Germany, Italy, and Spain. The constituent countries in the European Union all received upward revisions. Growth projections for Germany (FGM) and France (EWQ) were revised higher by 0.4% and 0.2%, respectively, compared to the April report. The growth estimate for Italy (EWI) was revised 0.7% higher, and Spain (EWP) received an upgrade of 0.5%. The Eurozone (VGK) is projected to grow 2.1% in 2017 and 1.9% in 2018.
Article continues below advertisement
Reasons for the uptick in Eurozone growth projections
The IMF cited the increase in exports and growth in domestic demand as key reasons for the uptick in economic projections. The Eurozone has benefited from a pickup in global trade and accommodative financial conditions provided by the European Central Bank. A sharp reduction in political uncertainty in recent months has also helped improve the outlook for the Eurozone countries.
What lies ahead for the Eurozone?
The outlook for the Eurozone in the medium term, as per the IMF report, remains subdued. The reasons for subdued growth include weak productivity, higher debt in some countries, and adverse demographics.
For Eurozone inflation, the IMF projects an inflation print of 1.5% in 2017—a sharp rise from 0.2% in 2016. This outlook, however, includes the impact of high energy prices, and the IMF sides with the ECB projection of reaching its 2% target only in 2021. Overall, the outlook for the Eurozone has improved since the last report, and future growth is expected to remain on track.
In the next part of this series, we'll discuss risks to the global economic outlook.