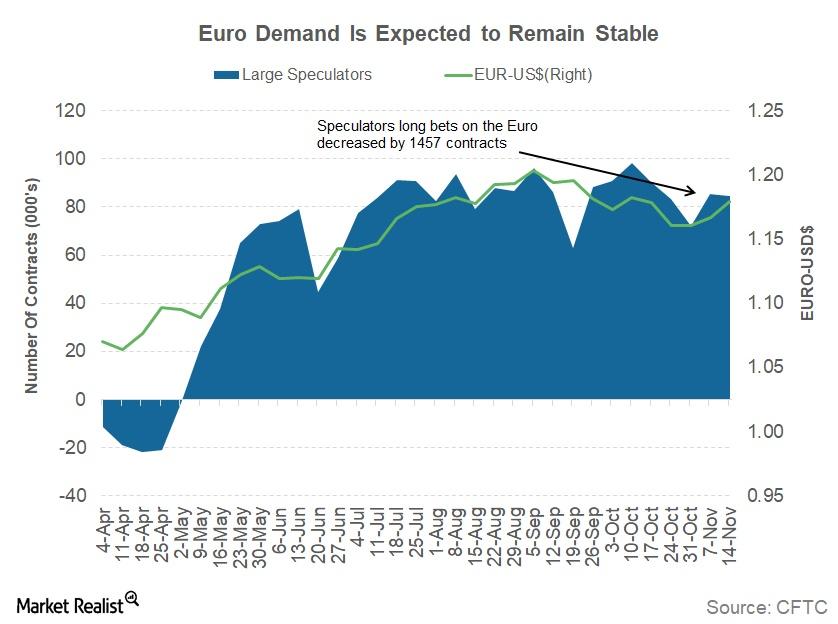 What Drove the Euro Higher against the Dollar Last Week?
Euro appreciated by 1.1% last week
The euro-dollar (FXE) closed the week ending November 17 at 1.2, appreciating by 1.1% against the US dollar (UUP). An uptick in the economic data coupled with the weakness of the US dollar drove the euro to a three-week high against the US dollar. Preliminary third-quarter EU GDP was reported at 2.5% and was reported at 2.3% for Germany. Industrial production, economic sentiment, and inflation data were encouraging, leading to gains in the shared currency.
Article continues below advertisement
European equity markets (VGK) along with the US markets closed lower last week. The German DAX (DAX) ended the week lower by 1.0%, the Euro Stoxx (FEZ) was down by 1.3%, and France's CAC was down by 1.1% in the previous week. The weaker opening this week could mean further losses for these indexes this week too.
Euro speculators decrease their bets
As per the Chicago Futures Trading Commission's (or CFTC) latest Commitment of Traders (or COT) report released on Friday, November 17, speculator positions fell marginally last week. The total net speculative bullish positions on the euro (EUFX) fell by 1,457 contracts from 85,455 contracts to 86,519 contracts as of November 14.
Outlook for euro
This week, the European economic calendar is filled with activity and uncertainty. Third quarter GDP, purchasing manager indexes, IFO business climate, and the minutes of the last ECB meeting could have an impact on the euro. Traders could be looking for clues about how the ECB will move on interest rates once the current bond-buying program is unwound completely. The rise of political uncertainty after the failure of coalition talks is likely to have a knee-jerk negative impact on the euro this week. However, for the long term, the ECB decision could be the key driver.
In the next part of this series, we'll discuss why the British pound depreciated despite growing uncertainty about Brexit.