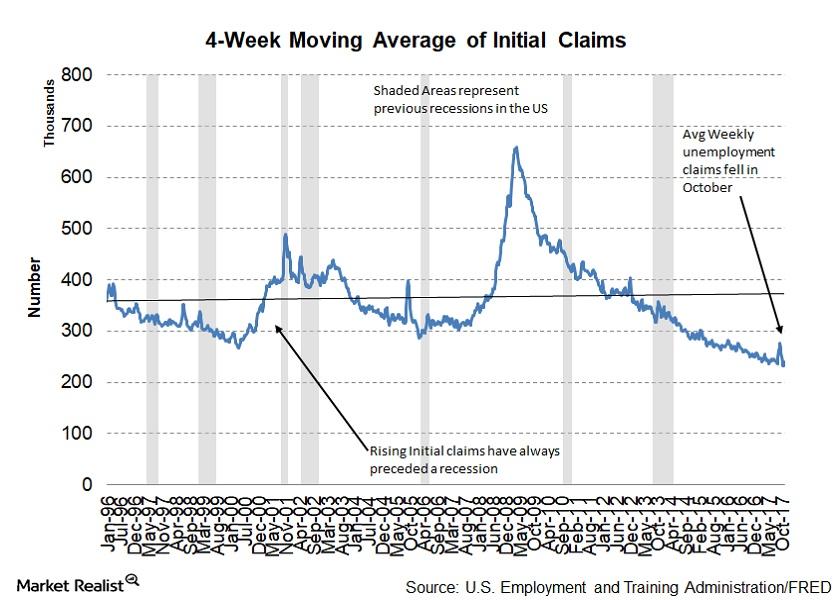 What Decreasing Weekly Unemployment Claims Say about the US Economy
Average weekly claims
In the Conference Board Leading Economic Index, the average weekly unemployment claims have 3.0% weight. Weekly unemployment claims, when adjusted for seasonality, can give investors a better understanding of the underlying trends in the employment market.
The weekly claims are considered more sensitive to the underlying business conditions in comparison to the monthly non-farm payrolls in the short-term. This is the primary reason for the Conference Board to use average weekly claims in its Leading Economic Index.
Article continues below advertisement
October claims at a six-month low
Weekly unemployment claims fell back below 250,000 in October as the impact of Hurricanes Harvey and Irma faded, and activity in the affected industries returned to normal. The last weekly claims were reported on November 18 at 239,750, beating market expectations and recovering from the spike seen in the last eight weeks.
The Conference Board October LEI uses the weekly claims data from October. According to the latest report, average weekly claims have decreased from 267,000 in September to 232,700 in October.
The fall in the number of claims is considered to have a positive impact on the economy. These lower average unemployment claims had a net positive impact factor of 45% on the Leading Economic Index in October.
Implications for the markets
Any surprises in the employment data increased the volatility (VXX) in the fixed income (BND) and currency markets (UUP). With unemployment back in the acceptable zone of the Federal Reserve, further rate hikes—especially the one in December—has been taken for granted by the markets.
This improvement could have a positive impact on the US dollar (USDU) and the short-term (SHY) bond yields.
In the next part of this series, we'll look at the rebound in new orders for the manufacturing sector.