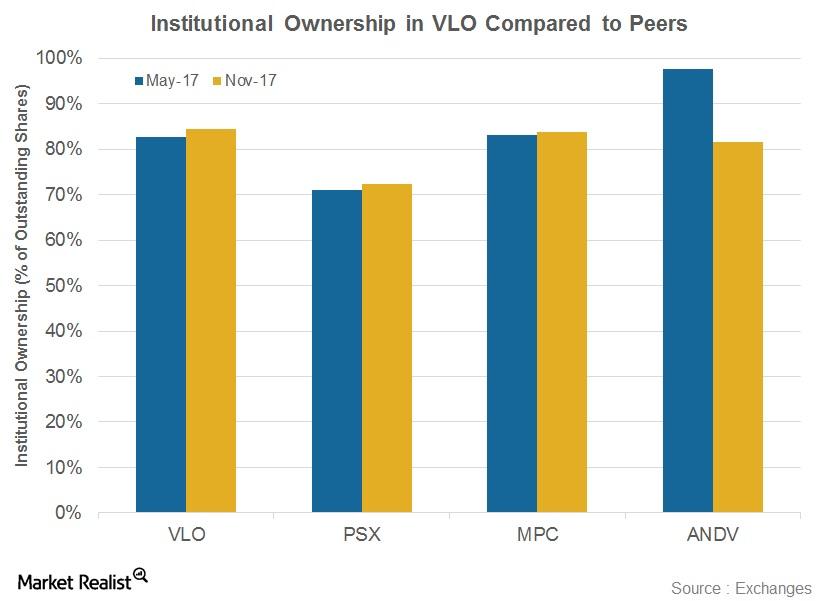 Valero's Institutional Ownership Trends
What is institutional ownership?
In this part, we'll look at changes in institutional ownership in Valero Energy (VLO). Institutional ownership is a measure of how many shares of a company are owned by institutions such as banks and mutual funds. Institutional ownership suggests these institutions' confidence level in a stock. Usually, everything else being equal, higher institutional holdings reflect positive sentiment about a stock.
Article continues below advertisement
Variations in institutional ownership in VLO and peers
Institutional ownership in VLO currently stands at ~84%, a ~2% rise in the past six months. Institutional ownership in Valero has risen more than ownership in Marathon Petroleum (MPC) and Phillips 66 (PSX), which has risen 1% to 84% and 72%, respectively. Institutional ownership in Andeavor (ANDV) has fallen 16% in the past six months to 82%. The sharp fall in institutional ownership in ANDV has been due to the closure of its Western Refining acquisition, which led to changes in the company's number of outstanding shares.
Institutional ownership in Valero
The Vanguard Group, BlackRock Institutional Trust, State Street Global Advisers, and Columbia Threadneedle Investments have the highest ownership in VLO. In the past six months, Vanguard and BlackRock have increased their holdings in VLO, while the other two have decreased their holdings in the stock.
Wellington Management has been the biggest seller of VLO shares in the past six months, and Fidelity Management & Research has been the largest buyer. In the next part, we'll evaluate changes in short interest in Valero.