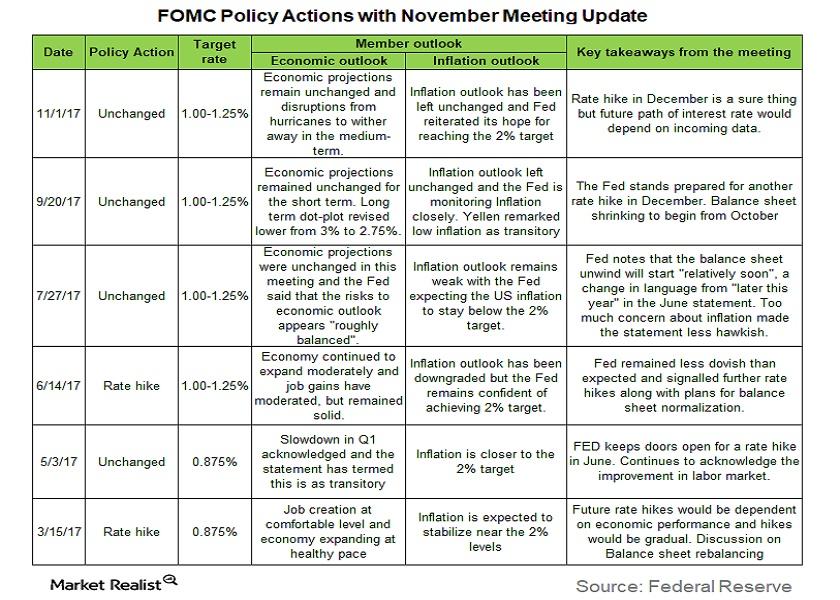 The November FOMC Meeting Minutes: Must-Knows
Rates Unchanged at November meeting
The last Federal Open Market Committee (or FOMC) meeting took place on October 31–November 1. The target range for the federal funds rate stayed unchanged at 1%–1.25%. This decision followed an assessment of the current economic conditions and the outlook for economic activity.
The November FOMC meeting minutes are usually released three weeks after the FOMC meeting, and they help investors, market observers, and economists understand the reasons behind the Fed's decision. Markets (SPY) try to assess the next move from the Fed based on the discussions.
Article continues below advertisement
Key points discussed at the November Meeting
FOMC members agreed that the information received since the September meeting indicates that the US economy has continued to strengthen and that economic activity continues to expand at a solid rate. The discussions included the assessment of hurricane-related disruptions, and members agreed that the disruptions and rebuilding efforts would have an impact on economic activity, inflation (TIP), and unemployment. But based on experience, the FOMC members believed that, over the medium term, the impact would be negligible.
The decision to leave interest rates (BND) unchanged was unanimous, and members have agreed that future changes to monetary policy would depend on their assessment of realized and expected economic conditions. The dual target of maximum employment and inflation (VTIP) of 2% remains.
Series overview
In the remaining parts of this series, we'll further analyze the FOMC November meeting minutes, looking at its assessment of economic and financial market conditions and how these decisions could impact the bond, currency, and equity (QQQ) markets.