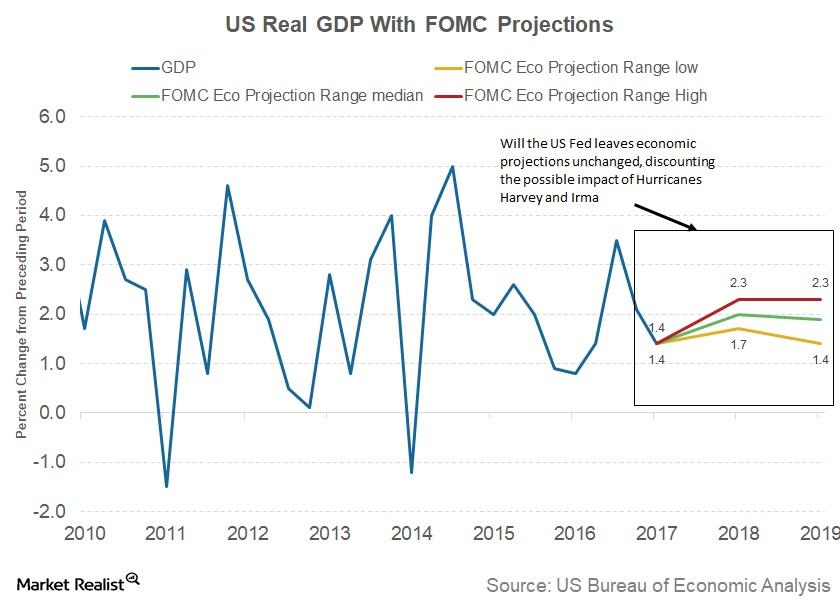 The FOMC's View on the US Economy
Economic expansion continues at a solid pace
All FOMC meeting minutes present a staff review of the economic situation. At the November meeting, the FOMC staff review indicated that US labor market conditions continued to strengthen and that the US economy continued to expand at a solid pace. Unemployment claims have marginally risen in the aftermath of hurricanes, but the national unemployment rate remained steady at 4.2%. The key highlight is the increase in the employment cost index for private companies by 2.5% and the 3% increase in the average hourly earnings over the last 12 months.
Article continues below advertisement
Inflation remains low
As per the FOMC staff report, inflation (TIP) is still lagging. As per the statement, consumer price inflation (or CPI) grew 2.25% over the 12 months ending in September. Core inflation (VTIP), which excludes consumer food and energy prices, has only risen 1.75%. The FOMC felt that inflation is likely to remain below target for the rest of 2017, but members remained confident that price pressures would build and inflation would eventually move toward the 2% target.
Other economic observations
Apart from inflation and unemployment, other macroeconomic indicators have continued to improve. Industrial production (XLI) was said to have improved, and the FOMC expected automaker (CARZ) light vehicle assemblies to rise in the last quarter. The FOMC noted the decline in housing (XHB) investment and felt that housing market performance has been mixed for different segments.
In the next part of this series, we'll discuss the FOMC's view on financial conditions.