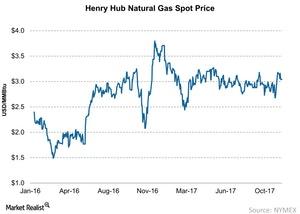 How Natural Gas Prices at Henry Hub Moved Last Week
Natural gas prices
Last week, the average weekly Henry Hub natural gas prices were broadly lower week-over-week in the US (MOO).
Article continues below advertisement
Weekly movements
The weekly average Henry Hub natural gas price stood at $3.10, which fell as much as 71 basis points week-over-week from a weekly average of $3.12 a week ago. Natural gas can account for as much as 70% of the production costs for nitrogen fertilizers for producers such as CF Industries (CF), PotashCorp (POT), Agrium (AGU), and Terra Nitrogen (TNH).
Outlook
The EIA (U.S. Energy Information Administration) issues a monthly short-term energy outlook report. The latest one was published on November 7, 2017. In that report, the EIA forecasts that natural gas prices would average $3.01 per MMBtu in 2017 and $3.10 per MMBtu in 2018. The next report is expected to be released on December 12.
Cheap natural gas has been one of the key reasons for marginal producers to increase capacity and production. However, over the years, the low energy prices also pushed down the prices of nitrogen fertilizers, making it unsustainable for some producers.
This trend also affected Chinese players, which primarily use coal as an energy source. As a result, several marginal producers in China curtailed their production this year, which has somewhat balanced the supply and demand lately.
Next, we will discuss phosphate fertilizer price movements.