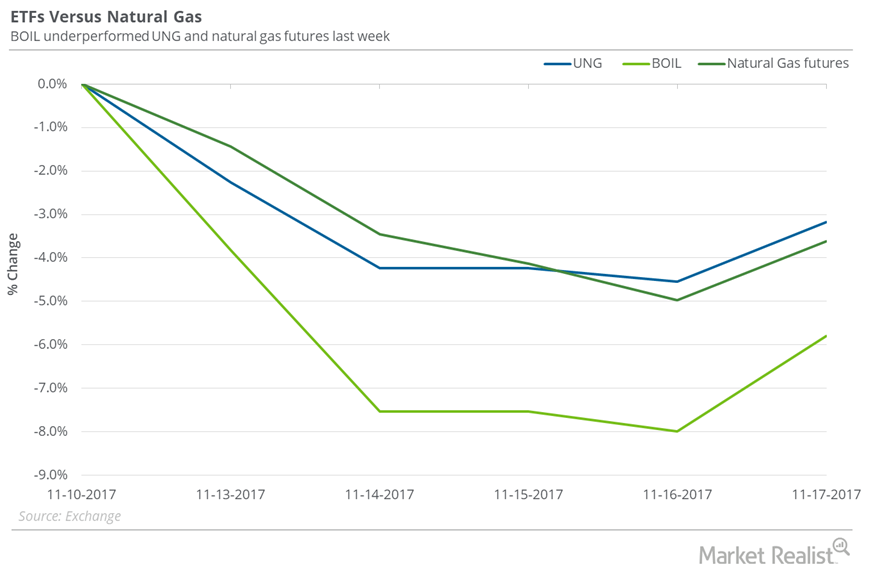 Are Natural Gas ETFs Doing Any Better than Natural Gas?
Natural gas ETFs
Between November 10 and November 17, the United States Natural Gas Fund LP (UNG) fell 3.2% while natural gas active futures fell 3.6%. UNG is a stock-like security that can track moves in natural gas near-month futures.
The ProShares Ultra Bloomberg Natural Gas (BOIL) is meant to produce twice the daily changes of the Bloomberg Natural Gas Subindex. BOIL fell 5.8% last week—the most compared to UNG and natural gas futures.
Article continues below advertisement
Article continues below advertisement
March 2016
Between March 3, 2016, and November 17, 2017, natural gas (GASL)(GASX)(FCG) active futures rose 89%. On the former date, natural gas active futures plunged to the lowest closing price in the last 17 years. However, UNG rose 10.5%, while BOIL fell 8% between these two dates.
The negative roll yield could be an important factor for the underperformance of these ETFs. We discussed the dynamics of the roll yield in the previous part of this series. Read Natural Gas Futures Spread: Analyzing Oversupply Concerns for more on natural gas–related securities' roll yield.
For BOIL, the long-term compounding of its daily price variations can drive its actual return away from the expected return.
On November 17, natural gas futures contracts prices for January 2018 settled progressively higher.