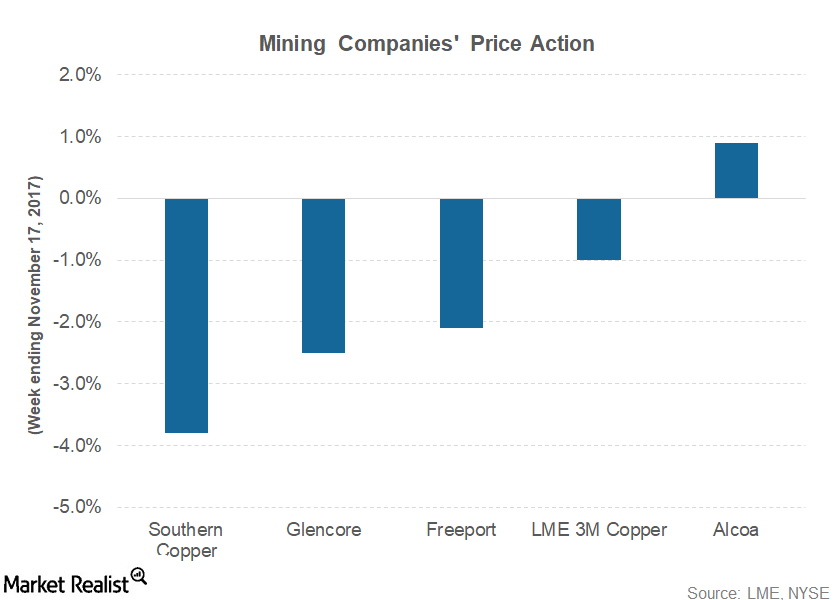 Metal Prices Fell on Demand Concerns Last Week
Metals updates
Most industrial metals closed with losses last week. Among key base metals (DBC), copper lost 1.0%, while zinc closed with losses of 2.7% on the LME (London Metals Exchange) in the week ending November 17. Aluminum was a relative outperformer last week, and the lightweight metal closed with losses of 0.62%. Nickel was one of the worst performers last week with losses of 6.6%.
This is the second consecutive week that base metals have seen negative price action. The LME (London Metals Exchange) three-month copper contract fell 1.6% in the week ending November 10 also. Nonetheless, despite the sell-off in November, metals are still trading with strong year-to-date (or YTD) gains. For instance, LME three-month aluminum and copper contracts are trading with YTD gains of 21.8% and 21.9%, respectively.
Article continues below advertisement
Mining companies
As metal prices fell last week, most metals and mining companies also saw negative price action. Glencore (GLEN-L) closed with losses of 2.5%, while Alcoa (AA) rose 0.9% in the week. Southern Copper (SCCO) and Freeport-McMoRan (FCX) lost 2.1% and 3.8%, respectively, in the week. Mining companies have come off their 2017 highs as commodity prices have pared some of their gains.
Series overview
In this series, we'll look at the key developments that impacted mining companies last week. We'll also look at some of the company-specific developments that impacted mining stocks during the week. Finally, we'll look at the key events that investors should watch this week.