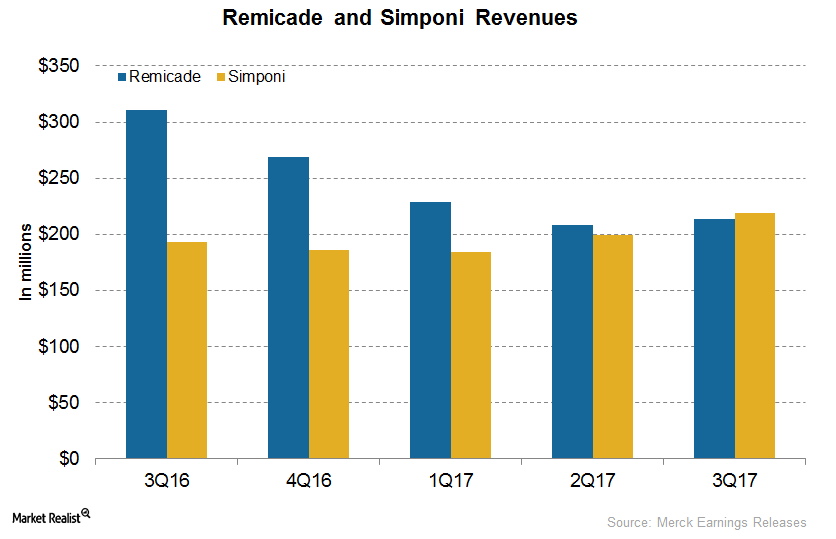 Merck's Immunology and Oncology Drugs, Post-3Q17
Immunology drug revenue
In 3Q17, Remicade generated revenue of $214 million, a ~31% fall YoY (year-over-year) and 3% growth QoQ (quarter-over-quarter). During the first nine months of 2017, Remicade reported revenue of $651 million, which reflected a ~35% fall YoY. Foreign exchange had a 3% favorable effect towards 3Q17 Remicade revenue.
In 3Q17, Simponi reported revenue of ~$219 million, which is ~13% growth YoY and 10% growth QoQ. During the first nine months of 2017, Simponi generated revenue of $602 million, which reflected 4% growth YoY.
Article continues below advertisement
Merck markets Remicade and Simponi in Europe, Russia, and Turkey. In the market, Remicade and Simponi compete with AbbVie's (ABBV) Humira, Amgen's (AMGN) Enbrel, Pfizer's (PFE) Xeljanz, and Bristol-Myers Squibb's (BMY) Orencia. In 3Q17, Humira, Enbrel, Xeljanz, and Orencia reported revenue of $4.7 billion, $1.4 billion, $348 million, and $632 million, respectively.
Oncology revenue trends
In 3Q17, Merck's (MRK) Emend generated revenue of $137 million, which is a 4% fall QoQ. In 3Q17, Emend's revenue remained flat YoY.
In 3Q17, Temodar generated revenue of $68 million, which is a ~13% fall YoY and 5% growth QoQ. During the first nine months of 2017, Emend and Temodar reported revenue of $413 million and $198 million, respectively, compared with $405 million and $216 million in the first nine months of 2016.
Temodar is indicated for the treatment of newly diagnosed glioblastoma multiforme, simultaneous with radiotherapy and followed by maintenance therapy. Revenue growth of Merck's immunology and oncology portfolio could boost the PowerShares Dynamic Pharmaceuticals Portfolio ETF (PJP), of which Merck makes up ~4.3%.