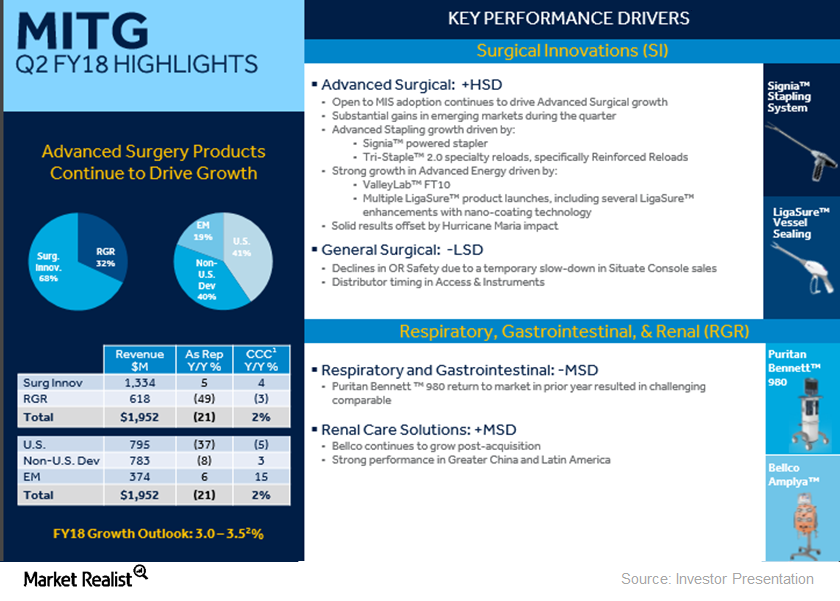 Medtronic's Disappointing MITG Business Performance in Fiscal 2Q18
Overview
In fiscal 2Q18, Medtronic (MDT) registered lower-than-expected sales growth from its MITG (Minimally Invasive Therapies Group) business. The reported sales fell ~21%, on a YoY (year-over-year) basis.
On a comparable constant currency basis, after adjusting for the impact of the divestiture of a part of the company's PMR (Patient Monitoring and Recovery) business, the MITG business sales growth came in at ~2.0% in the quarter. For the details of the divestiture, please read Divestiture of a Part of Medtronic's PMR Business to Cardinal Health.
Medtronic's MITG business consists of two business segments—Surgical Innovations (or SI) and Respiratory, Gastrointestinal, and Renal (or RGR). These segments reported sales growth of ~4.0% and -3.0%, respectively, on a constant currency basis.
Due to the disappointing fiscal 2Q18 results, Medtronic made a downward revision to its estimates for MITG sales growth in fiscal 2018 to 3.0%–3.5%.
Article continues below advertisement
Major factors that impacted the fiscal 2Q18 MITG performance
Hurricane Maria had a huge negative impact on the performance of Medtronic's MITG business. The company's Surgical Innovations sales were driven by new product launches in the segment.
In the Advance Stapling division of MDT's SI business segment, advanced surgical products registered high single-digit sales growth. General surgical solutions registered low single-digit sales growth.
The Signia powered stapler and Tri-Staple 2.0 specialty reloads were the major drivers of the Advance Stapling business. The company's advanced energy sales were mostly driven by the product launches of ValleyLab FT10 and Multiple LigaSure.
Medtronic's RGR segment under its MITG business registered a steep decline in sales in the quarter mainly due to the negative impact of a tough prior year's comparables in its Respiratory business. In fiscal 2Q17, Medtronic's Puritan Bennett 980 was relaunched in the market, which resulted in tough comparables in fiscal 2Q18.
Medtronic's Renal Care business registers strong growth driven by the company's Bellco acquisition and robust performances in Latin America and Greater China.
Boston Scientific (BSX), Abbott Laboratories (ABT), and Edwards Lifesciences (EW) are among the major companies competing for the market share in the minimally invasive therapies market. These companies registered revenues of around $2.2 billion, $6.8 billion, and $0.84 billion, respectively, in their recently ended quarters.
Investors can gain exposure to Medtronic through investment in the Vanguard S&P 500 ETF (VOO). MDT comprises ~0.50% of VOO's total portfolio.