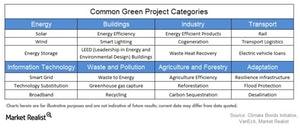 Labeled Green Bonds' Significance to Investors
VanEck
These figures cover "labeled" green bonds that are in line with the CBI's green bond definitions, meaning that the projects financed are consistent with achieving a dramatic and rapid reduction in greenhouse gas emissions. Other bonds labeled as green but which are not in line with the CBI definitions, such as those that finance projects such as "clean coal", are not included. A green label provides additional transparency to investors by disclosing the types of projects a bond will finance. A much broader universe of "unlabeled" green bonds exists, but investors are increasingly seeking the transparency that labeled green bonds provide so that they can better assess the impact their investment is making. The CBI flag provides assurance that the projects are truly green.
Article continues below advertisement
Market Realist
How significant is the green label?
Both developed (EFA) (DBEF) and emerging market (EEM) (VWO) economies are facing climate-related risks. Green bonds allow investors to use the debt capital market to fund climate-related projects.
Green bonds also help investors diversify their portfolios while contributing to the well-being of the environment. The chart below shows the typical project categories for green bonds.
 
For investors to ensure that their investment is being used appropriately for an environmental cause, green bonds need to offer transparency. Because self-labeling of green bonds didn't provide sufficient assurance to investors, the International Capital Market Association created the following Green Bond Principles to provide more transparency:
use of proceeds
project evaluation and selection
management of proceeds
reporting
Because these principles are voluntary, the Climate Bonds Initiative (or CBI) developed the Climate Bonds Standard and Certification Scheme to further standardize the process. Along with third-party verifiers, the CBI ensures the proceeds from the bonds are used for climate-related projects and thus labels the bonds "green." This process has helped expand the green bonds market and the increase in global issuance.
Data from the Climate Bonds Initiative shows that the climate-aligned bonds universe stands at $895 billion outstanding. Of this, labeled green bonds stand at $221 billion while unlabeled green bonds stand at $674 billion.
When the use of these proceeds is not specified, the bonds are unlabeled. Bonds of pure-play companies are also unlabeled. You can read more about this in Green Bonds: How They Are Painting the Global Picture.
Global climate leaders have set a $1 trillion target for green finance by 2020, which would require a tenfold increase in global green bonds issuance. An increase in labeled green bonds can boost the market's momentum and growth.
In the next part, we'll discover which country dominated the green bonds issuance this year.