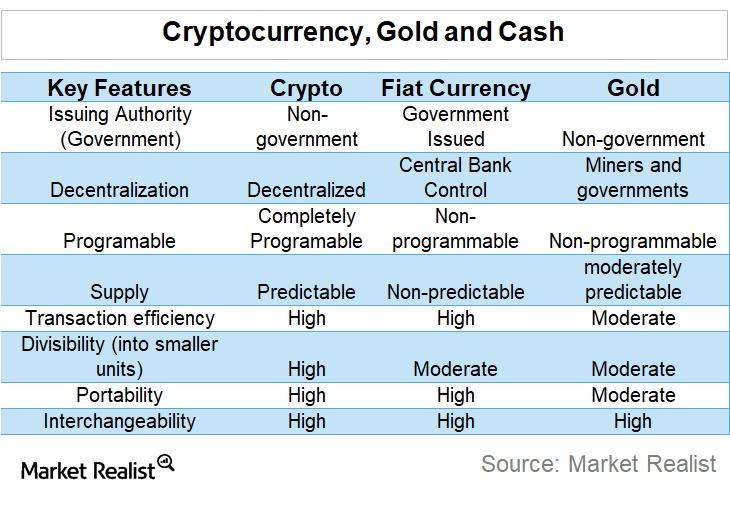 How Bitcoin Differs from Other Currencies
A note on currencies, the gold standard, and fiat currency
When we talk about currencies, the first thing that comes to mind is what can be bought with it. A currency (UUP) can be used as a medium of exchange and a store of value.
Throughout the history of currency markets, different rules have governed the value of nations' currencies. It started with the gold (GLD) standard, where a country's currency was valued based on the gold reserves of that country, and as demand for printed currency exceeded gold reserves, markets moved to fiat currencies—a currency not backed by an asset but by the creditworthiness of the issuing government.
Article continues below advertisement
What are bitcoin and other cryptocurrencies backed by?
Bitcoin has been rallying for the past year, with some proponents advocating that it could replace fiat currencies in the future. Bitcoin is built in such a way that it doesn't require any "trust" or guarantee. It's backed by a network and miners, but it doesn't enjoy the same guarantees as the US dollar, for example.
Otherwise put, there's absolutely no traditional backing for any cryptocurrencies (ARKW)—they only exist electronically.
Will cryptocurrencies replace mainstream currencies?
A currency must be relatively stable for the smooth functioning of the global marketplace, and bitcoin and other cryptocurrencies are nowhere close to stable right now. Merchants who are accepting bitcoin could be doing it for reasons that only they understand. Imagine the value of a cryptocurrency falling by 10% in a day—what could that do to a business?
Bitcoin could continue to evolve and see increased interest from investors, but for the time being, most consider bitcoin to be an instrument for speculation rather than a method of value storage.
Continue to next and final part of this series for a discussion of bitcoin as an asset.