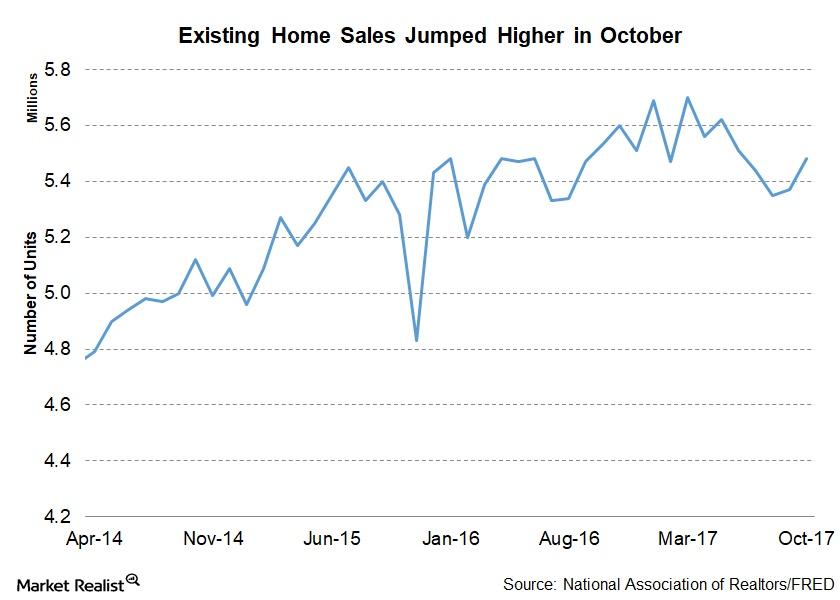 Households Think It's a Good Time to Buy a Home
Existing home sales growth at a six-month high
In the US, the NAR (National Association of Realtors) releases a monthly report on the existing home sales (ITB) market. The report includes important data on the median home price, total housing inventory, inventory trends, demand from first-time buyers, and the average commitment rate.
The indicator helps investors and prospective buyers understand the trends in the housing market. As a lagging indicator, it can't be used to predict the sector's (REM) future demand. The other two indicators that we discussed in this series are leading indicators.
Article continues below advertisement
October existing home sales
According to the latest report from NAR, existing home sales have risen 2% to a seasonally adjusted annual rate of 5.48 million in October—the fastest increase since March this year. All of the major regions have witnessed rising sales in single-family and multi-family homes. Lawrence Yun, NAR's chief economist, said that the sales activity has picked up for the second month in a row. The sales activity increased due to underlying economic trends in job and wage growth. He expects the demand for existing home sales to bounce back in Florida and Texas in the coming months.
Understanding the fall in inventories
The inventories of existing home sales have fallen 10.4% from a year ago. They have fallen 3.2% in October to 1.80 million units. The increased sales rate added more pressure to the inventories. According to NAR, it's expected to take 3.9 months to exhaust the entire inventory. A reading below five indicates tight supply in the housing market (EQR), which could result in higher prices. This is one reason that homebuyers are closing deals faster. The average time a listing stayed on market was 34 days in October—compared to 41 days a year ago.
Looking ahead, rising interest rates and the possibility of changes to mortgage interest deduction (MBB), personal taxes, and the rules of capital gains taxes could alter the dynamics in the existing home sales sector. Interest rates are still low and probably won't increase very quickly. With growing incomes and the demand for homes, we can expect more growth in the housing (LEN) industry.