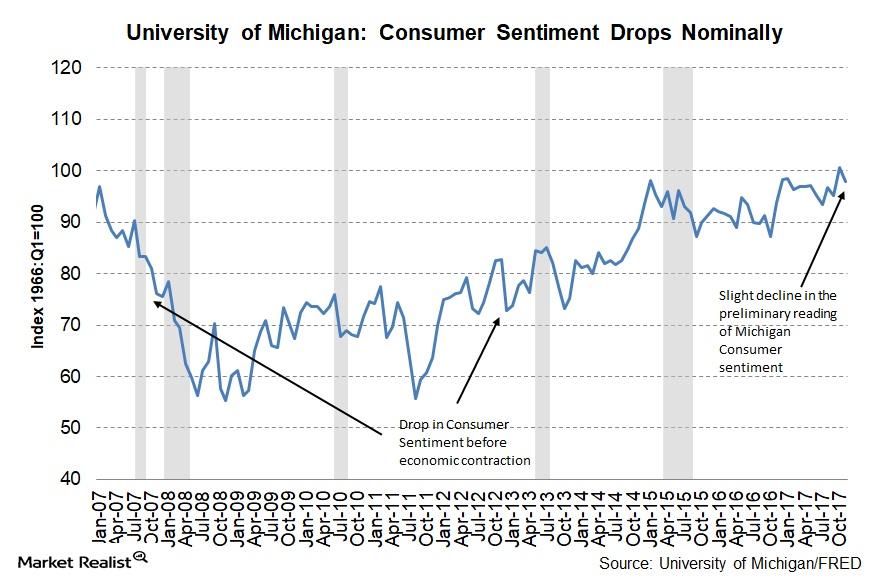 Here's What Drove Consumer Expectations Lower in November
Preliminary results for November lower than expected
The University of Michigan Preliminary Consumer Sentiment for November was reported at 97.8, which was 2.9 lower than the final October reading of 100.7. While this represents a fall from the previous month, the index is still above the 2017 average of 96.8.
The consumer sentiment index can be considered a forward indicator because it considers the expectations that consumers have about the economy. But if we consider a situation wherein consumers are expecting a slowdown in economic activity, we're talking about potential job losses. Such a thought could deter consumers to hold off any spending plans, which is likely to slow consumption, lowering demand and inflation, and the slowdown cycle would continue.
Article continues below advertisement
Reasons for a lower reading
A survey of economist Richard Curtin, in a note along with the preliminary November results, noted that consumers and policymakers have four key concerns when thinking about the future: prospective trends in jobs, wages, inflation (TIP), and interest rates (BND).
The reason for lowered consumer expectations in November could have been increased expectations for higher inflation (VTIP) and interest rates in the near term. Although we've seen wage increases this year, consumers are likely to hold off on big purchases like home (ITB) and vehicles (CARZ) if rates are expected to rise further.
Conclusion
In this series, we've discussed the economic indicators that have been released so far in November. So far, economic activity has been encouraging, and the economy is likely to continue on its expansionary path. A further boost can be expected if tax reforms—which have a long way to go in Congress—become a reality this year. But the proposed changes in the Senate last week (to delay cuts to corporate taxes) are likely to be a drag on these expectations.