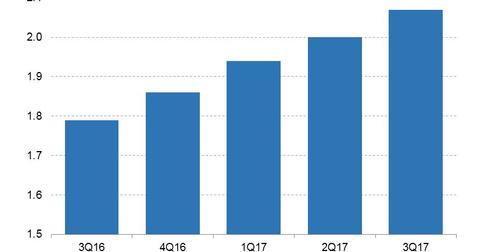 Here's What We Should Know about Facebook's Audience
By Neha Gupta

Updated
Audience size to play major role in top-line growth
Audience size is expected to play a major role in supporting Facebook's (FB) future revenue growth. That's because the company is shifting away from the model where advertising revenue growth is driven primarily by increasing the number of ads shown to users. Instead, Facebook seems to be looking to a future where advertising revenue growth could be driven by price.
A price-driven revenue growth might require Facebook to continue growing its audience, or user base, and encouraging those users to be more active on its platforms. In addition to the flagship Facebook site, the company operates other digital properties, including Instagram, Messenger, and WhatsApp.
MAUs and DAUs each grew 16%
Facebook recently provided an update on the audience metrics of its flagship site, and we can learn a lot from it. The company said it finished 3Q17 with ~2.07 billion MAUs (monthly active users), implying that its MAU base expanded 16% YoY (year-over-year). Twitter's (TWTR) MAUs increased 4% YoY in the same period.
Facebook exited 3Q17 with ~1.4 billion DAUs (daily active users) on average, indicating an increase of 16% YoY. The DAU metric provides additional information on user activity on a platform by measuring daily engagement. Twitter doesn't disclose the actual size of its DAUs, but it said its daily audience increased 14% YoY in 3Q17. Snap's (SNAP) DAU base expanded 17% YoY to 178 million in 3Q17.
Facebook is adding DAUs rapidly in Asia
Facebook gained the most DAUs in Asia-Pacific during 3Q17. That daily audience increased 108 million YoY compared with 18 million in Europe (EFA) and 7 million in the United States and Canada. The company added 56 million daily users in ROW (Rest of World), which consists of emerging market (EEM) regions such as the Middle East, Africa, and South America.