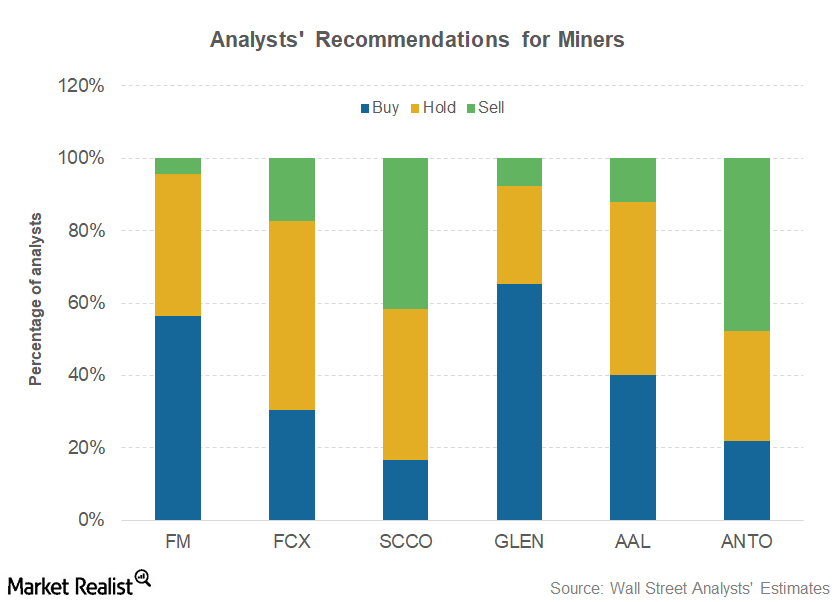 Glencore or Freeport: Which Has More Upside Potential?
Upside potential
Previously in this series, we compared mining companies' 3Q17 financial performance. In this final article, we'll see how analysts are rating leading copper miners.
Article continues below advertisement
Recommendations
Glencore (GLEN-L) has the highest percentage of "buy" or higher recommendations in our select group of mining stocks. The stock has received a "buy" or higher rating from 65% of the analysts polled by Thomson Reuters as of November 17.
Southern Copper (SCCO) has the least percentage of "buy" recommendations, and the stock has been rated as a "buy" by only 17% of analysts. Freeport-McMoRan (FCX) has received a "buy" rating from 30% of its analysts, while 17% of analysts recommend a "sell" on the stock.
Anglo American and Antofagasta (ANTO) have received a "buy" or higher rating from 40% and 22% of analysts, respectively.
Target price
First Quantum (FM) is trading 23.9% below its consensus price target based on its November 17 closing price, the highest in our coverage of copper miners. Antofagasta's target price implies a potential downside of 8.2% over its November 17 closing price. Southern Copper is also trading 7.2% above its consensus price target.
Freeport-McMoRan and Glencore are trading 16.2% and 13.7% below their respective consensus price targets. Freeport has underperformed the broader metals and mining space this year. As of November 17, Freeport has gained only 5.0% this year. The LME (London Metals Exchange) three-month copper contract has gained 21.9% during this period.
Several brokerages changed their ratings on mining stocks after their 3Q17 earnings release. You can read How Analysts Are Rating Copper Miners after Their 3Q17 Earnings for more information.