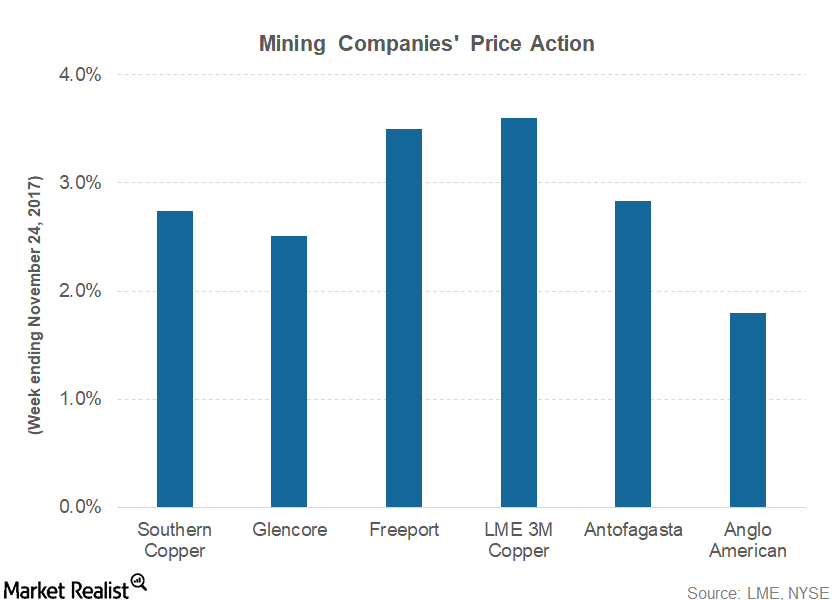 Copper Tests $7,000 as Industrial Metals Rebound
Industrial metals
Last week was broadly positive for industrial metals (DBC). Copper rose 3.6%, while aluminum prices rose 1.3% in the week ending November 24. Zinc and nickel rose 2.2% and 4.7%, respectively, last week. In the week ending November 17, most industrial metals saw negative price action.
In the week ending November 17, copper and zinc closed with losses of 1.0% and 2.7%, respectively, on the LME (London Metals Exchange). Aluminum was a relative outperformer that week. It closed with losses of 0.62%. Nickel was one of the worst performers with losses of 6.6%.
Article continues below advertisement
Price action
Last week's upwards price action is a welcome break for industrial metals after two consecutive weeks of losses. Copper is trading near the $7,000 per metric ton price level on the LME.
Metals and mining stocks also moved to higher price levels last week and followed commodities higher. Glencore (GLEN-L) rose 2.5%, Southern Copper (SCCO) rose 2.7%, and Antofagasta (ANTO) rose 2.8% last week. Freeport-McMoRan (FCX) was the best-performing copper miner in our select group of copper stocks with gains of 3.5% in the week ending November 24.
Series overview
In this series, we'll look at the macro developments that impacted mining companies in the week ending November 24. We'll also look at some of the company-specific developments that impacted mining stocks during the week.