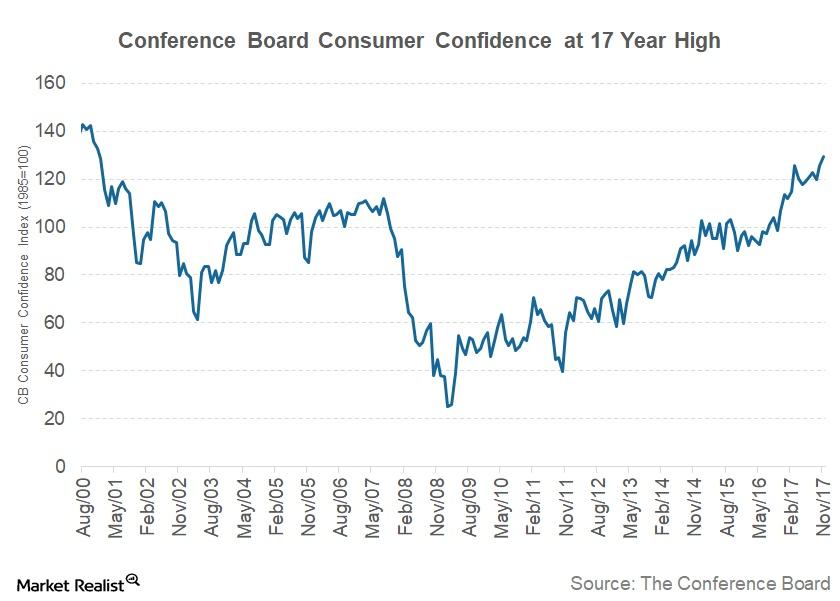 Conference Board Consumer Confidence Rose in November
About the Conference Board Consumer Confidence Index
According to the technical note available on the Conference Board website, the Consumer Confidence Index (or CCI) is a barometer of the health of the US economy (VOO) from the perspective of the consumer. The index is constructed based on the consumer perception of employment and business conditions and their expectations for the next six months. This index is one of the first indicators to be published every month, and market (SPY) participants monitor the index because of its classification as a leading indicator.
Article continues below advertisement
The CCI Survey
The CCI survey is a mail-based survey that is conducted every month. The participants in the survey are residential households in the US who are sent a questionnaire by the first of each month. The Consumer Confidence Index questionnaire asks for respondents' appraisal of current business conditions, employment conditions, and their expectations for business conditions, employment conditions, and their total family income six months forward. The sample size for this survey is approximately 3,000.
The questionnaire collects consumer preferences for buying new automobiles (CARZ), homes (ITB), or other consumer goods (IYK). This information helps companies in these fields to create business strategies, and increasing consumer confidence is considered a positive sign for the US economy.
Conference Board Consumer Confidence Index for November
The Conference Board Consumer Confidence Index for November was reported at 129.5, up from 126.2 in October. Lynn France, the director of economic indicators at the Conference Board, said that consumer confidence has increased for the fifth consecutive month. France said that the improved outlook was driven primarily by the optimism surrounding further improvement in the US labor market.
In the next part of this series, we'll analyze the Conference Board CEO confidence survey.