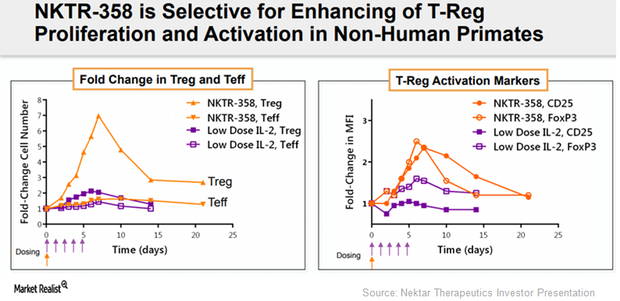 Nektar's NKTR-358 Collaboration with Eli Lilly Boosted Revenues
Nektar Therapeutics' revenues
Nektar Therapeutics (NKTR) recognized $128 million of the $150 million upfront payment from Eli Lilly (LLY) related to the development of investigational drug NKTR-358. The company expects to record a total of $130 million of this upfront payment as revenues in 2017. The remaining $20 million will be recorded in proportion to the performance of this development program through 2019.
Nektar Therapeutics has projected royalty revenues of $30 million–$35 million from Movantik and Adynovate for 2017. Combined with non-cash royalty revenues from the sales of Cimzia and Mircera, the company has projected 2017 royalty revenues of $55 million–$60 million.
Article continues below advertisement
Nektar Therapeutics expects its GAAP (generally accepted accounting principles) R&D (research and development) expenses for 2017 to be $250 million–$255 million. That includes $29 million of non-cash expenses related to stock-based compensation and depreciation. The company has also projected its G&A (general and administrative) expenses for 2017 to be $50 million, which will include $13 million in non-cash expenses.
Nektar Therapeutics makes up 1.1% of the iShares Nasdaq Biotechnology (IBB).
NKTR-358 clinical data
On November 7, 2017, Nektar Therapeutics presented pre-clinical data that highlighted the superior ability of single dose NKTR-358 therapy in expansion and selective activation of regulatory T-cells compared to repeated low-dose interleukin (or IL-2) receptor therapy. The activation of these inhibitory immune cells is known to restore immune system balance and thus prove to be clinically beneficial in treating autoimmune conditions.
In the future, NKTR-358 is expected to compete with IL (interleukin) inhibitors such as Johnson & Johnson's (JNJ) Stelara and Novartis's (NVS) Cosentyx.
In the next part, we'll look at key developments in Nektar's ciprofloxacin DPI (dry powder for inhalation) research program.