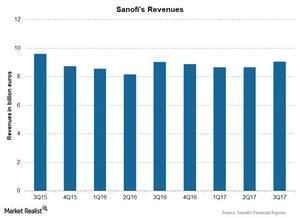 Behind Sanofi's 3Q17 Revenue Growth
Sanofi's revenues
Sanofi (SNY) reported a growth of 4.7% in revenues at constant exchange rates to 9.05 billion euros, compared with 9.03 billion euros in 3Q16. Sanofi reported EPS (earnings per share) of 1.79 euros for 3Q17.
Article continues below advertisement
3Q17 revenues
For 3Q17, Sanofi missed the analysts' estimate for revenues, reporting 9.05 billion euros, compared with the estimate of 9.44 billion euros. But Sanofi surpassed the analysts' estimates for EPS, reporting EPS of 1.79 euros, compared with the estimate of 1.71 euros.
This growth in revenues was mainly driven by 13.9% operational growth in Sanofi Genzyme sales, 7.2% operational growth in Vaccines sales, and 1% operational growth in sales of consumer healthcare products in 3Q17.
However, lower sales of general medicines and emerging markets and lower diabetes and cardiovascular sales impacted Sanofi's overall growth in 3Q17.
Profit margins in 3Q17
For Sanofi, the gross profit margin rose to 72.2% during 3Q17—a marginal YoY (year-over-year) rise. The increase in research and development expenses and selling and general expenses impacted the overall profitability of Sanofi, and operating income fell to 1.98 billion euros in 3Q17, compared with 2.39 billion in 3Q16. This also impacted net income, which came in at 1.59 billion euros, compared with 1.70 billion euros in 3Q16.
Notably, the PowerShares International Dividend Achievers ETF (PID) has 9.6% of its total investments in the healthcare sector, with 2.3% in Teva Pharmaceuticals ADR (TEVA), 1.4% in Sanofi ADR (SNY), 1.4% in Novartis AG ADR (NVS), and 1.1% in Novo Nordisk ADR (NVO).