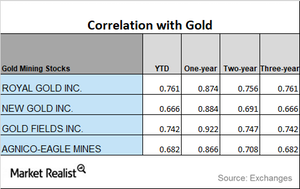 Analyzing Miners' Trends in October
Mining stocks' correlation with precious metals
Most of the time, mining stocks' performance follows that of precious metals. However, they can deviate. Correlational analysis can give investors some insight into how mining stocks relate to gold and silver. In this part of our series, we'll compare Royal Gold (RGLD), Goldcorp (GG), New Gold (NGD), and Newmont Mining (NEM).
Article continues below advertisement
Correlation trends
Among the four miners we're examining, Goldcorp has had the lowest correlation with gold this year, while Royal Gold has had the highest correlation with gold. Among the four mining stocks, Goldcorp's and New Gold's gold correlation has risen, while Newmont's has fallen.
New Gold has risen from a three-year correlation of 0.67 to a one-year correlation of 0.88. A correlation of 0.88 suggests that New Gold has moved in the same direction as gold ~88% of the time.