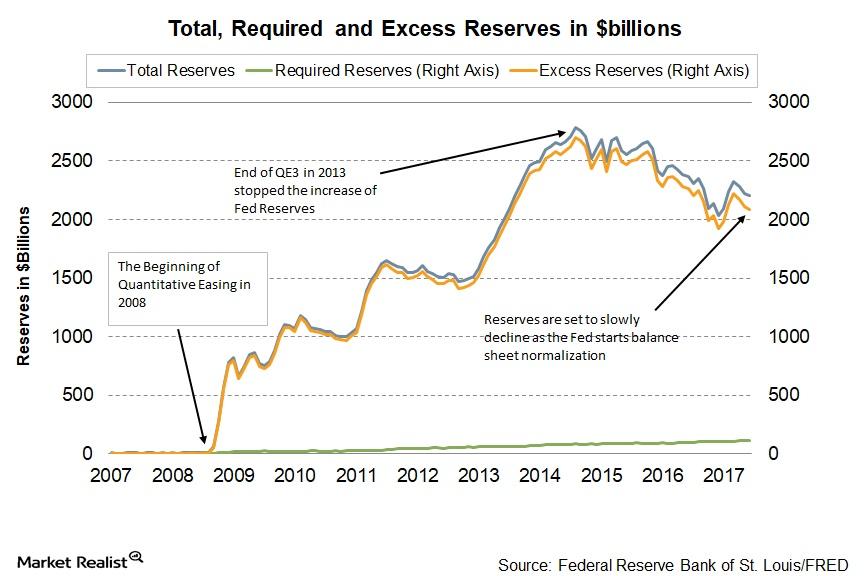 Why the Fed Has Initiated Balance Sheet Normalization
By Ricky Cove

Oct. 24 2017, Updated 11:16 a.m. ET
Lessons learned conference
Atlanta Federal Reserve president and CEO, Raphael Bostic, recently spoke at a conference about the Fed's balance sheet normalization program. The conference was held on October 12 and the topic was "unconventional monetary policy: lessons learned." In his speech, Bostic discussed the balance sheet normalization program, why it was initiated at that time, and lessons learned from unconventional monetary policy.
Article continues below advertisement
Why the Fed has initiated balance sheet normalization now
As per the September FOMC statement, beginning in October, the US Fed won't replace some of the maturing securities (SHV) each month. For the US Treasuries (SHY) (IEI), the FOMC expects to let $6 billion roll off monthly from its balance sheet and increase this amount by $6 billion every quarter until it reaches $30 billion in monthly reductions. For agency debt (MINT) and mortgage-backed securities (MBB), this cap would be $4 billion per month with a $4 billion increase every quarter until a cap of $20 billion per month is reached.
The main reason cited by Raphael Bostic for initiating the balance sheet normalization program is that the US economy seems to be on solid footing and the economic performance signals that the current pace of recovery can be expected to continue. Bostic cited growth in wages, investment, and exports as comforting factors to go ahead with the normalization plan. There has been a disturbance to the economic cycle with the recent hurricanes, but the impact could be transitory, and the economy should be back on its feet in the coming months.
Trends in employment remain robust
Though the September jobs reports indicated a loss of 33,000 jobs, the underlying strength of the labor market continues to be strong. The unemployment rate is below the long run average of 4.2%, and Bostic felt that this is the rate at which the economy could be at full employment. Concluding the reasons why the Fed started the balance sheet normalization process, Bostic said that he thinks that the US economy is in a good place right now after the long period of subdued recovery.
In the next part of this series, we'll discuss what Bostic thinks the effects of unwinding the Fed's balance sheet could be.