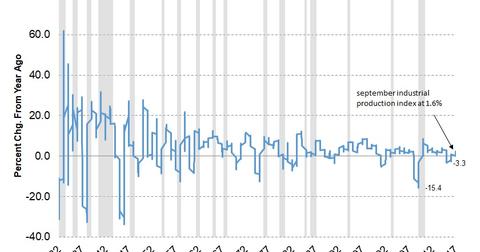 Which Industries Increased Production Last Month?
By Ricky Cove

Oct. 18 2017, Published 2:21 p.m. ET
September industrial production rose 1.6%
The Federal Reserve released its September industrial production report on October 17. The report indicated that key sectors in the US economy increased production in September. Industrial production for September has risen 0.3% month-over-month, in line with market expectations. The year-over-year increase was reported at 1.6%, another improvement from the August reading.
The Industrial Production Index is an economic indicator that measures the output of industries operating in the US. The sectors covered in this report include manufacturing, gas and utilities, mining, and electric. Short-term changes in industrial production are helpful in assessing the health of an industry. A month-over-month increase in industrial production is a signal that the US economy is expanding and a positive sign for the equity (SPY) markets.
Article continues below advertisement
Recovery after hurricane devastation
Industrial activity rebounded from the decline in August when the oil and gas industry (XOP) was impacted by Hurricane Harvey. According to the Federal Reserve, Hurricane Harvey and Hurricane Irma were responsible for a 0.25% drop in industrial production in September. The Federal Reserve has downgraded the July reading by 0.5% and raised the August estimate by 0.2%.
Which sectors improved in September?
In September, the utility sector's (XLU) production rose 1.5%, and the mining sector (PICK) increased production by 0.4%. In the major markets group, the construction (NAIL) sector's industrial production had the highest month-over-month change of 1.9% as rebuilding efforts after hurricanes picked up pace.
US industrial production has been sluggish since its peak in November 2014 and has only started picking up in January 2017. If we exclude the August dip because of hurricanes, growth has been stable and is expected to continue at a reduced pace. In the next part of this series, we'll analyze the changes in capacity utilization for US industries in September.