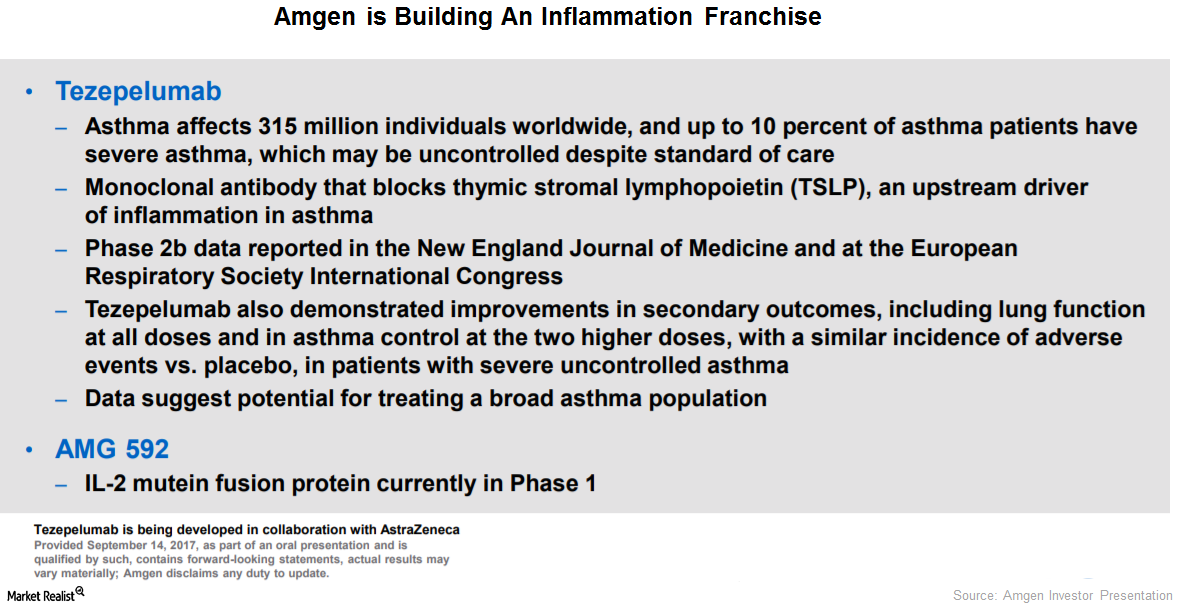 Tezepelumab Could Help Amgen Develop Its Inflammation Franchise
About Tezepelumab
Amgen's (AMGN) Tezepelumab is a monoclonal antibody that binds to human thymic stromal lymphopoietin (or TSLP) and prevents interaction with TSLP receptor complex. Inhibition of TSLP receptor with tezepelumab is expected to prevent the release of pro-inflammatory cytokines by immune cells that are targeted by TSLP.
Tezepelumab is expected to address a wide population of individuals with severe and uncontrolled asthma.
Article continues below advertisement
PATHWAY trial
Amgen conducted the Phase 2b PATHWAY trial to evaluate the safety and efficacy of tezepelumab 70 mg and 210 mg dose every four weeks and tezepelumab 280 mg dose every two weeks.
These doses are applicable to individuals with a history of asthma exacerbations and uncontrolled asthma who are on inhaled corticosteroids or long-acting beta-agonists with or without oral corticosteroids (or OCS) and other additional asthma regulators.
PATHWAY trial results
In phase 2b PATHWAY trial patients on tezepelumab 70 mg and tezepelumab 210 mg every four weeks' therapy arm, and tezepelumab 280 mg every two weeks' therapy arm showed 60%, 71%, and 66%, respectively, reductions in annual asthma exacerbation rate compared to placebo.
Overall, Tezepelumab demonstrated statistically significant and clinically meaningful declines in the asthma exacerbation rate independent of baseline blood eosinophil count and also showed progress in lung function at all doses.
According to the Centers for Disease Control and Prevention (or CDC), around 25 million Americans have asthma. The CDC also estimated that one in every 13 individuals in the US have asthma.
According to World Health Organization (or WHO), around 235 million individuals worldwide have asthma. The statistics depict a large asthma patient pool. Studies estimate that among asthma patients, 10% are suffering from severe asthma.
Amgen's peers in asthma drugs market include GlaxoSmithKline(GSK), Merck (MRK), AstraZeneca (AZN), Roche Holding, and Sanofi. The Health Care Select Sector SPDR ETF (XLV) invests ~4.3% of its total portfolio holdings in Amgen.