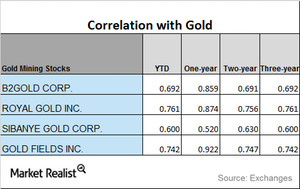 Reading the Correlation Movements of Precious Metal Miners with Gold
Mining stock correlations
When investors park their money into precious metal mining stocks, one of the key technical indicators that they monitor is the correlation of mining stocks with gold. Correlation analysis is important because it gives investors guidance about the potential movement of mining stocks in relation to gold and silver.
In this part of our series, we'll compare Royal Gold (RGLD), New Gold (NGD), Gold Fields (GFI), Agnico-Eagle Mines (AEM).
Article continues below advertisement
Mining funds such as the iShares MSCI Global Gold Min (RING) and the VanEck Vectors Junior Gold Miners (GDXJ) also tend to track precious metals closely, and their correlation numbers remain considerably high. These two funds fell 2.6% and 1.5%, respectively, on October 26. During that time, gold dropped 0.74%.
Correlation trends
Among the four miners that we're analyzing here, Agnico-Eagle has the lowest correlation with gold on a YTD (year-to-date) basis, while Royal Gold has the highest correlation with gold.
All four of these mining stocks have seen an upward trend in correlation, while Royal Gold has shown a mixed trend. A rising trend in correlation suggests that the miners are dependent more on gold for directional moves in prices.
The correlation of New Gold with gold has risen from a three-year correlation of 0.67 to a one-year correlation of 0.88. Remember, a correlation of 0.88 suggests that New Gold has moved in the same direction as gold ~88% of the time during the past year.
It's also important that we remember that correlation trends keep changing, and so investors have to keep tabs on which miners are more closely associated with gold, and which are not.