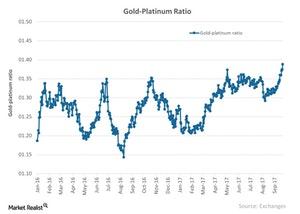 Platinum Ratio Analysis: Which Way Is Platinum Moving?
Positive outlook for platinum
While palladium is used extensively in petroleum-based car engines, platinum is used in diesel-based engines. Given current car-sales trends, palladium prices have surpassed platinum prices this year as of October.
Aside from these metals' industrial uses, platinum and palladium have also been used as safe-haven investments amid increased risks stemming from geopolitical concerns including tensions surrounding North Korea.
Specifically, platinum demand has been growing in China, and higher demand in China is anticipated going forward, as new Chinese emissions standards could boost the demand for platinum and palladium.
Article continues below advertisement
Spread analysis
The gold-platinum spread measures the number of platinum ounces it takes to buy an ounce of gold. When this spread increases, it means that platinum (PPLT) has become weaker than gold. A falling spread indicates the relative strength of platinum next to gold (SGOL) (SIVR).
The gold-platinum spread was ~1.38 on October 23. The RSI (relative strength index) level for the gold-platinum spread is now at 93.9, and such an extravagantly high RSI number indicates that a fall in the spread is likely coming.
Notably, precious metal mining companies that rise and fall with these metals include Silver Wheaton (SLW), B2Gold (BTG), First Majestic Silver (AG), and Yamana Gold (AUY).