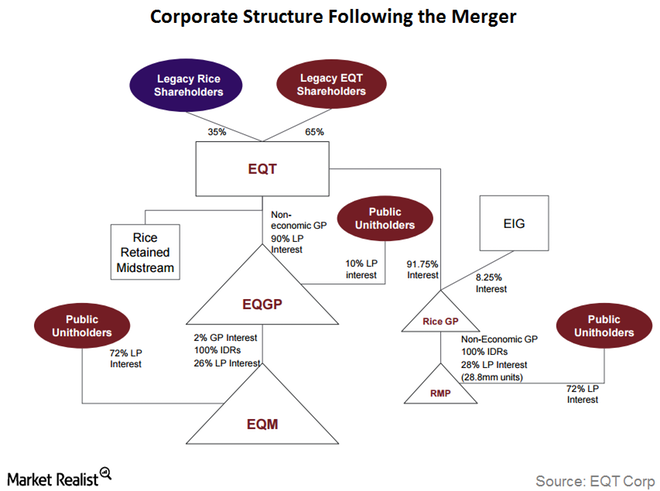 Key Updates on the EQT-RICE Merger
EQT's existing ownership structure
Under EQT Corporation's (EQT) existing ownership, the company owns a 90% limited partner interest and non-economic general partner interest in EQT GP Holdings (EQGP). EQGP, in turn, holds a 2% GP (general partner) interest and 26% LP (limited partner) interest along with 100% of the IDRs (incentive distribution rights) in EQT Midstream Partners (EQM).
Article continues below advertisement
What Jana Partners wants
Activist hedge fund Jana Partners, disapproving of the above business structure, wants EQT to break out its midstream business altogether. It wants EQT to separate its natural gas midstream assets from its E&P (exploration and production) business. EQT acknowledged Jana's sum-of-the-parts discount criticism and expects to have a plan to address these options by the end of 2018.
In a press release on September 13, EQT announced that upon the close of the Rice transaction, it would establish a committee of the board of directors to evaluate options for addressing the sum-of-the-parts discount and announce a decision by the end of 1Q18. The press release noted, "Rice is an outstanding strategic and operational fit for EQT and this transaction will enhance our ability to further unlock the embedded midstream value and address the sum-of-the-parts discount, which will now be done on an accelerated timetable."
What next?
In its latest presentation in July, the company noted that it needs to complete the filing of the S-4 form necessary to register mergers or acquisitions with the SEC (U.S. Securities and Exchange Commission) for review. The last step would be to obtain shareholder votes and close the transaction. The transaction is expected to close in 4Q17.
Could Jana Partners' influence shareholders votes? See EQT's Midstream Advantage: Which Way Could Shareholders Swing? to learn more.