How Weather Affects Natural Gas Prices
On October 16, the November US natural gas futures contract price was reported as $2.95 per MMBtu.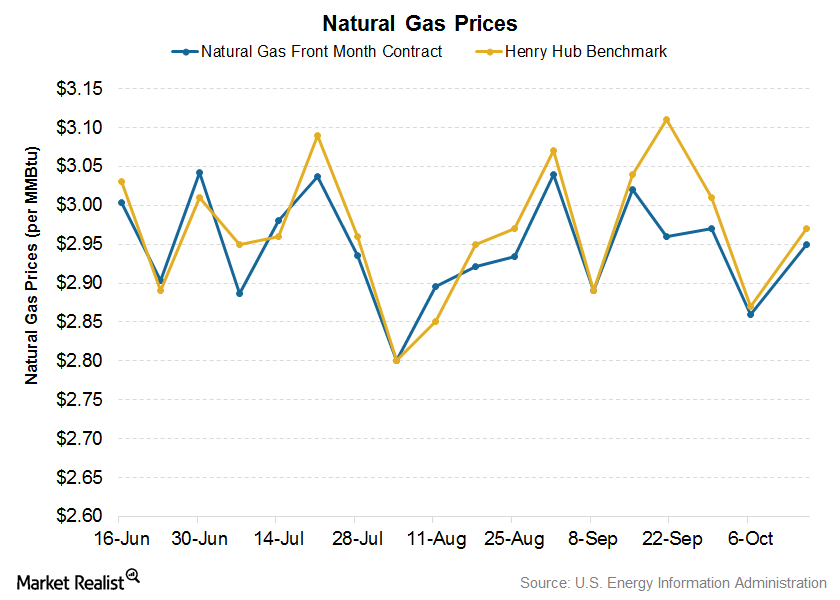 Natural gas prices
On October 16, 2017, the Henry Hub natural gas spot price settled at $2.97 per MMBtu (million British thermal units). This reading is higher than $2.87 per MMBtu posted on October 6, 2017.
On October 16, the November US natural gas futures contract price was reported as $2.95 per MMBtu.
According to the short-term energy outlook published by the EIA on October 11, 2017, the annual average Henry Hub natural gas price in 2018 is estimated to be $3.19 per MMBtu. This price is higher than $3.03 per MMBtu in 2017.
The forecast of increased natural gas consumption in the US, as well as the rise in natural gas exports in 2018, has led to the Henry Hub outlook.
Weather in the United States during October is expected to be mild. Recent forecasts also suggest the US is expected to experience mild weather during the next few months, which could pressure natural gas futures. This forecast could lead to a fall in demand for natural gas.
As we saw in the previous part of this series, the natural gas supply rose 87.0 Bcf (billion cubic feet) during the previous week. A high supply level without adequate demand may put pressure on natural gas (UNG) prices as well.
For natural gas producers like Rex Energy (REXX) and Southwestern Energy (SWN), a fall in natural gas prices may result in a loss of margins.
Article continues below advertisement
Article continues below advertisement
Effect on coal producers
For coal to be considered as the more economical fuel between the two, natural gas prices should be high. If utilities opt for coal rather than natural gas, it may lead to a strong market share for coal (KOL). Likewise, market share would drop if natural gas prices tumble.
A rise in natural gas prices would encourage coal companies like Peabody Energy (BTU) and Westmoreland Coal (WLB) to boost their margins.
Next, let's look at the latest crude oil prices.