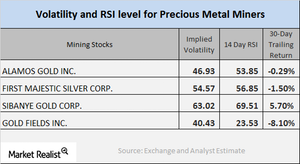 How Mining Stocks Have Moved in October
Technical reading
When estimating the performance of mining stocks, we have to study technical details. Most mining stocks retreated on October 23.
In this part of our series, we'll look at call implied volatility and RSI (relative strength index) levels, comparing Alamos Gold (AGI), First Majestic Silver (AG), Sibanye Gold (SBGL), and Gold Fields (GFI).
Article continues below advertisement
Call implied volatility
Call implied volatility is used to read the changes in the price of a stock with respect to the fluctuations in the price of its call option. On October 23, 2017, Alamos, First Majestic Silver, Sibanye Gold, and Gold Fields had call implied volatilities of 46.9%, 54.6%, 63%, and 40.4%, respectively.
Notably, mining stocks can often be more volatile than precious metals.
RSI reading
As we discussed previously in this series, RSI levels are used to analyze whether a stock has been overbought or oversold. If a stock's RSI is higher than 70, it may be overbought, and its price may fall. If a stock's RSI is below 30, it could be oversold, and its price might rise.
Alamos, First Majestic Silver, Sibanye, and Gold Fields now have RSI levels of 53.9, 56.9, 69.5, and 23.5, respectively. The recent decline in these stock prices has led to a considerable fall in their RSIs.
Notably, mining funds like the Vaneck Vectors Junior Gold Miners (GDXJ) and the PowerShares DB Gold Shares (DGL) have fallen 2.6% and 1%, respectively, on a five-day-trailing basis due to the slump in precious metal prices.