How India Became First Solar's Second-Biggest Market
India's rising electricity demand According to the EIA's (U.S. Energy Information Administration) 2017 International Energy Outlook, India's electricity generation is expected to increase by 3.2% per year through 2040, to meet increasing electricity demand in rural areas. Solar outlook Even though coal is the primary fuel used for electricity generation in India, the focus on renewable […]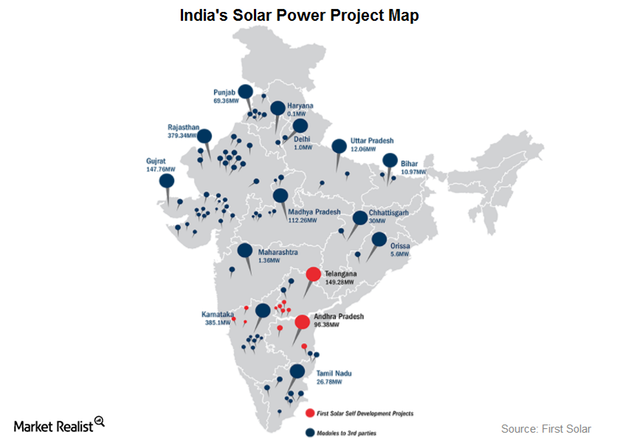 India's rising electricity demand
According to the EIA's (U.S. Energy Information Administration) 2017 International Energy Outlook, India's electricity generation is expected to increase by 3.2% per year through 2040, to meet increasing electricity demand in rural areas.
Article continues below advertisement
Article continues below advertisement
Solar outlook
Even though coal is the primary fuel used for electricity generation in India, the focus on renewable sources is growing. Furthermore, India does not hold significant natural gas reserves. With a sizable unexploited potential, solar energy (TAN) is expected to play a major role in providing energy to India. Renewable energy sources' share of electricity generation is expected to rise 46% between 2015 and 2040. First Solar entered India in 2012 and currently has 260 MW (megawatts) of solar power projects in the states of Karnataka, Telangana, and Andhra Pradesh.
By 2022, the Indian government's target is to reach 100 GW (gigawatts) in solar capacity, compared with 9 GW at the end of 2016. The country expects to reach 18 GW by the end of 2017.
Scope for First Solar
First Solar and SunEdison (SUNEQ) have a presence in India's solar market. In 2016, First Solar generated $158 million in revenue from India alone. The revenue is only second to that generated from the United States. First Solar's strategy differs from that of Yingli Solar (YGE) and Trina Solar (TSL), which focus on China. In the next part, we'll learn about First Solar's primary customers.