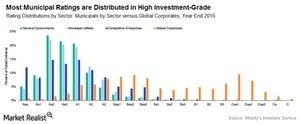 A Glance at Muni Bonds' Performance in 2016
VanEck
Muni Bond Ratings Drifted More Positively in 2016
Overall, Moody's bond ratings for the municipal sector skewed slightly more towards notch-weighted[1.Notch-weighted is the average upgraded or downgraded notches per issuer, notch refers to a single unit of measure from one rating to the next from higher to lower quality or lower to higher quality.] "upgrades" than "downgrades" in 2016, in an environment that continued to see elevated downgrade levels. Although the change is slight, this marks a turning point for muni bond rating drift, as "notch-weighted downgrades have outpaced upgrades for every monthly cohort since mid-2008," with the trend only reversing quite recently. For Moody's, this trend lends credence to the idea that "most credits are recovering or are stable in the aftermath of the recession." However, there are still some that "face steep credit challenges."
Article continues below advertisement
Market Realist
Muni bonds' rating volatility
Moody's report stated that rating volatility was high last year but when compared to corporate, it was less volatile. Because the strength of local and state governments determines the ratings of municipal bonds (PRB), muni bonds are often rated in the high investment-grade ranges.
Moody's rated public finance universe now comprises General Governments, Municipal Utilities, and Competitive Enterprises. The report analyzes how credit quality has softened since the Great Recession. Owing to their stability and low default rate, municipal utilities held high investment-grade ratings in 2016 (typically A and above).
Muni bonds' performance in 2016
The performance of municipal bonds has fallen since the 2016 election, as President Trump's tax reform and infrastructure spending plans have caused some concern among investors. ETFs that track municipal bonds have seen their prices slump since the election.
As of December 30, 2016, the VanEck Vectors AMT-Free Long Municipal Index ETF (MLN) and the VanEck Vectors AMT-Free Intermediate Municipal Index ETF (ITM) were the worst performers, losing 5% each since the election.
The iShares National Muni Bond ETF (MUB) and the SPDR Nuveen Bloomberg Barclays Short Term Municipal Bond ETF (SHM) also lost 3% and 2%, respectively, in the same period. Municipal bonds' ETF performance started turning around in 2017, as illustrated in the chart below.
If President Trump's tax reform plan is implemented—and if he decides to tamper with the tax-exempt status of municipal bonds—it could cause investors to question the role of muni bonds in their portfolios. In our view, muni bonds (SMB) (XMPT) could offer a safer option in the event of market volatility (IWM) (EFA), providing high-quality income.