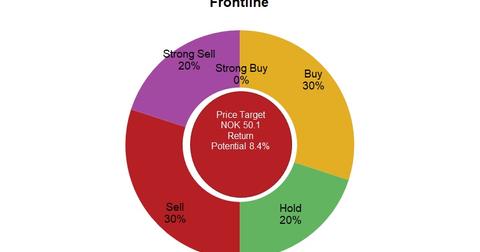 FRO Stock Is 15% down Year-to-Date: What Do Analysts Have to Say?
By Sue Goodridge

Updated
Stock performance
Most crude oil tanker stocks haven't had a good year so far. Frontline (FRO) is no exception. The stock is 15% down year-to-date. Let's see what analysts have to say about FRO's upcoming 3Q17 results.
Article continues below advertisement
3Q17 estimates
Wall Street analysts estimate that Frontline's revenue will be ~$90.8 million in the third quarter compared to $150 million in 2Q17 and ~$157 million in 3Q16. Since revenue is expected to be lower, EBITDA (earnings before interest, tax, depreciation, and amortization) is also estimated to be lower. Analysts expect FRO's 3Q17 EBITDA to be $35.0 million compared to $35.5 million in 2Q17 and $64.9 million in 3Q16.
For 2017, analysts expect FRO's revenue to be $474 million, which is 37% lower than its 2016 revenue of $754.0 million. FRO's 2017 EBITDA estimate stands at $217 million, which is lower than EBITDA of $271.0 million in 2016.
Consensus rating
According to Reuters, the consensus rating for FRO is three, which means a "hold." Below are the consensus ratings for other crude oil tanker companies:
Analyst recommendations
Five analysts give recommendations on Frontline. Out of these, none of the analysts gave it a "strong sell" rating. However, one analyst gave the stock a "buy" rating. 60% of the analysts, or three analysts, gave a "hold" rating to the company. The remaining one analyst recommended a "sell."
The consensus 12-month target price for FRO is $6, which implies a potential upside of 0.5% from the market price of $4.05 on October 3, 2017.