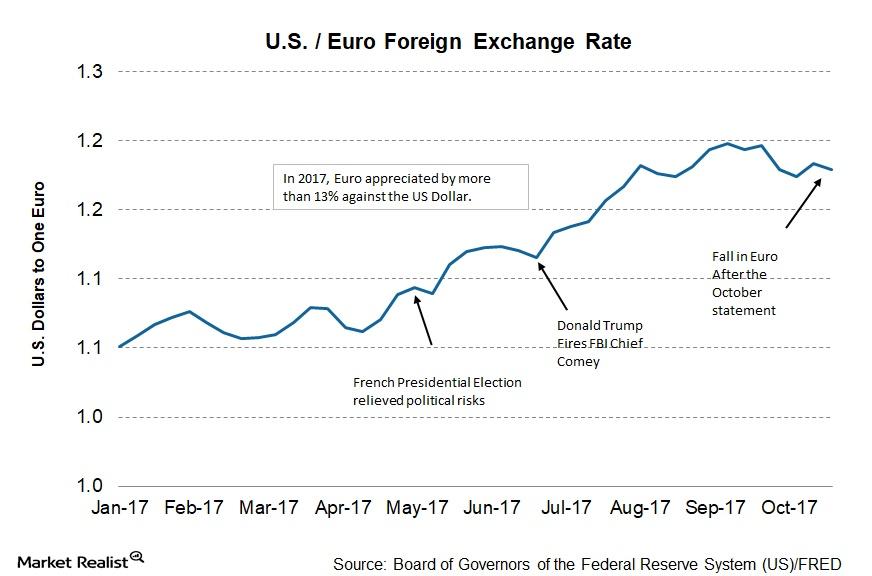 Why the ECB Isn't Worried about the Appreciating Euro
Euro news from the October meeting
In the ECB's (European Central Bank) October policy meeting, the ECB didn't explicitly talk about the appreciating euro. In the last meeting, ECB President Mario Draghi downgraded the economy's inflation outlook and blamed the rising euro as the reason, although the shared currency isn't part of the ECB's mandate.
The euro gained more than 14% against the US dollar before the meeting. Since then, it has fallen more than 1%.
Article continues below advertisement
Market's reacted to the statement
Forex traders aggressively sold the euro (FXE) after the ECB's dovish statement. The euro fell from 1.1810 to 1.1650 against the US dollar (UUP) on the day of the statement. It fell 1.4% in a single day. Why did the fall happen even though the ECB wasn't concerned with the euro's rise?
Traders in the FX space have been buying the euro in anticipation of a hawkish statement from the ECB. The lack of a clear end date for the asset purchase program and no discussion of a rate hike dashed euro bulls' hopes. It could be why the euro (EUO) fell after the statement.
ECB isn't concerned about the euro's rise
There wasn't a reference to the risk of the rising euro in the October statement. In the last two months, the US dollar's rebound softened the euro's effective exchange rate against its trading partners. Going forward, the euro (DRR) will likely remain rangebound with a bias towards more depreciation unless there's a surprise in the economic data.
In the next part, we'll analyze how the European bond markets (GGOV) reacted to the ECB's statement.