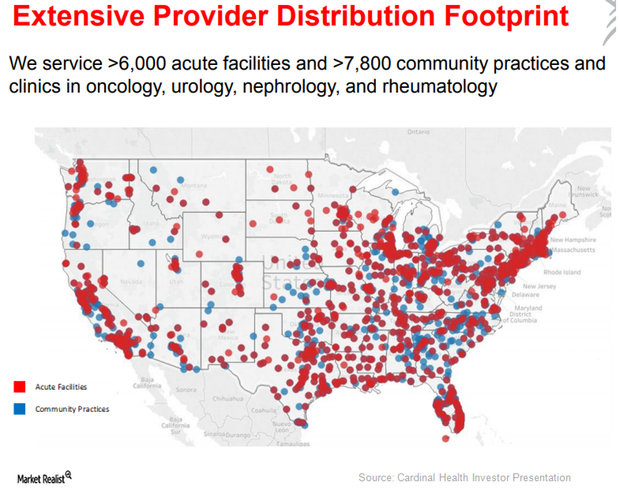 Robust Growth Expected for Cardinal Health's Specialty Solutions
Specialty Solutions segment
Cardinal Health's (CAH) Specialty Solutions segment provides two types of services: upstream to pharmaceutical and biopharmaceutical manufacturers and downstream to healthcare providers. The company assists drug manufacturers in securing regulatory approval for their drugs, launching these products, and expanding their market reach. The company's patient support hub is actively ensuring drug access as well as treatment compliance for patients.
Article continues below advertisement
Cardinal Health's nuclear business has also expanded rapidly and serves up to 1.0 million patients every month. The company runs an alpha radiopharmaceutical manufacturing facility in North America, which has already secured regulatory approval from the FDA (U.S. Food & Drug Administration), the EC (European Commission), and Health Canada. The first batch of Xofigo, the only FDA-approved alpha particle–emitting radioactive therapeutic agent, was manufactured at this facility in June 2017.
Cardinal Health makes up about 0.10% of the iShares Core S&P 500 ETF's (IVV) total portfolio holdings.
The above map shows the footprint of Cardinal Health's Specialty Solutions segment across acute care facilities and community practices. The broad distribution network enables Cardinal Health to compete effectively with other drug wholesalers and retailers such as AmerisourceBergen (ABC), Express Scripts (ESRX), and McKesson (MCK).
Growth projections
Cardinal Health has projected double-digit YoY (year-over-year) revenue and profit growth for its Specialty Solutions segment in fiscal 2018. The company also expects the growth pattern to continue into fiscal 2019. Robust clinical and analytic capabilities are the main factors driving growth for Cardinal Health's Specialty Solutions segment.
Cardinal Health has focused on this business opportunity after recognizing the trend that most innovative drugs under development and being approved belong to the specialty pharmaceuticals category.
In the next part, we'll look at Cardinal Health's medical business.