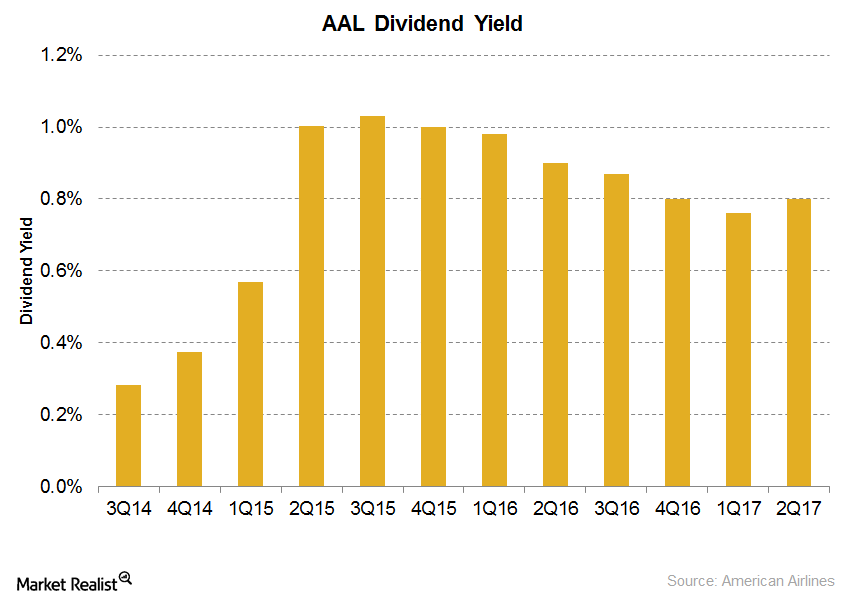 A Look at American Airlines' Dividend Payouts
Dividends
Only four airlines—Delta Air Lines (DAL), Southwest Airlines (LUV), American Airlines (AAL), and Alaska Air Group (ALK)—pay dividends to investors. Other airlines have stayed away from dividend payouts given the highly cyclical nature of the industry. AAL is the latest to join these ranks, having paid dividends only since mid-2014.
However, it still seems early for American Airlines to be paying dividends given that it emerged from bankruptcy only in 2013. Plus, the airline had just resolved the integration issues related to the US Airways merger.
Article continues below advertisement
Article continues below advertisement
Dividend yields
American Airlines has a current dividend yield of 0.8%, the lowest among the group. Southwest Airlines has a dividend yield of 0.94%, Alaska Air has a dividend yield of 1.6%, and Delta Air Lines has a dividend yield of 2.3%.
A 0.88% cash dividend ratio also indicates American Airlines' challenge in sustaining dividend payouts. A ratio of less than 1 indicates dividend payouts higher than the company's cash flows.
Outlook
American Airlines (AAL) has maintained a constant dividend payout of $0.10 per share since it started paying dividends. Investors can expect the airline to continue this payout in the future. They should, however, not expect any growth in dividends.
Although AAL doesn't pay high dividends, investors looking for exposure to high dividend–paying stocks can invest in the iShares Core High Dividend ETF (HDV). Continue to the next article to learn about American Airlines' current valuation.