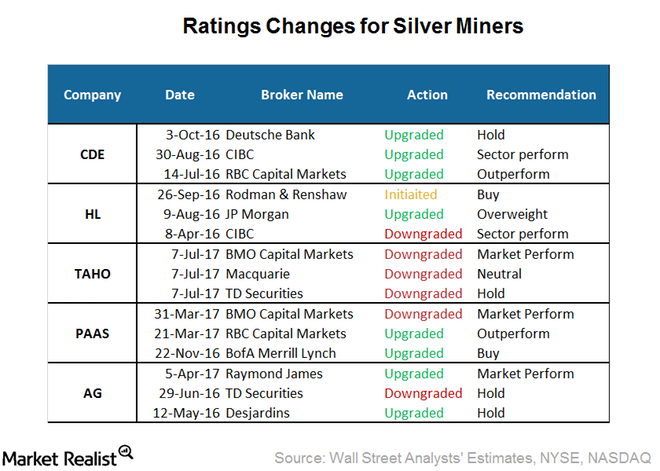 Behind the Recent Analyst Rating Changes for Silver Miners
Multiple downgrades for Tahoe
After the Guatemalan government's decision to suspend Tahoe Resources' (TAHO) license, the company saw several downgrades. The brokerages that downgraded the stock include Credit Suisse (CS), RBC Capital Markets, BMO Capital Markets, TD Securities, and Macquarie.
BMO, however, upgraded the stock on September 12, 2017, from "market perform" to "outperform." The firm also increased its target price from 7.0 Canadian dollars to 10.0 Canadian dollars.
Article continues below advertisement
CDE's rating changes
Raymond James increased Coeur Mining's (CDE) target price from $9.5 to $12.5 on September 15, 2017. Roth Capital set a target price of $13.0 on CDE's stock on October 5, 2017.
On August 30, 2017, CIBC upgraded CDE's stock from "sector underperform" to "sector perform."
Other silver miners
Following its strong year-to-date operational and stock performance, several analysts have either upgraded the Pan American Silver's (PAAS) stock or increased its target price. CSFB increased PAAS's target price from $23 to $25 on August 16, 2017. FBR & Company raised its target price for the stock from $20 to $22 on May 12, 2017.
National Bank Financial lowered First Majestic Silver's (AG) target price from 12.0 Canadian dollars to 11.0 Canadian dollars on August 17, 2017. TD Securities also lowered the price objective for AG's stock from 12.0 Canadian dollars to 11.5 Canadian dollars on August 4, 2017.