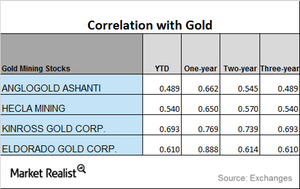 Analyzing Mining Shares' Correlation in October
Correlation reading
Understanding mining stocks' correlation with gold is crucial for investors in precious metal mining stocks. In this part of our series, we'll assess First Majestic Silver (AG), B2Gold (BTG), Royal Gold (RGLD), and Goldcorp (GG).
Key mining funds also depend on precious metals for their directional moves. These funds display a strong correlation with gold and silver. The funds include the PowerShares DB Gold Fund (DGL) and the VanEck Merk Gold Trust (OUNZ).
Article continues below advertisement
Correlation with gold
On a YTD basis, the correlation of these mining stocks seems to be weak compared to the previous year. Among the four miners we're discussing in this part, Goldcorp has the lowest correlation with gold, while Royal Gold has the highest.
The mining stocks, except B2Gold, have an upward trending correlation with gold. Royal Gold's correlation has increased from a 0.76 three-year correlation to a 0.87 one-year correlation.
A rise in the correlation indicates that the price changes in gold should actively play a role in mining shares' price changes.
A correlation of 0.87% suggests that in the past year, Royal Gold has been taking cues from gold ~87% of the time. It means that a rise in gold leads to a rise in Royal Gold ~87% of the time.