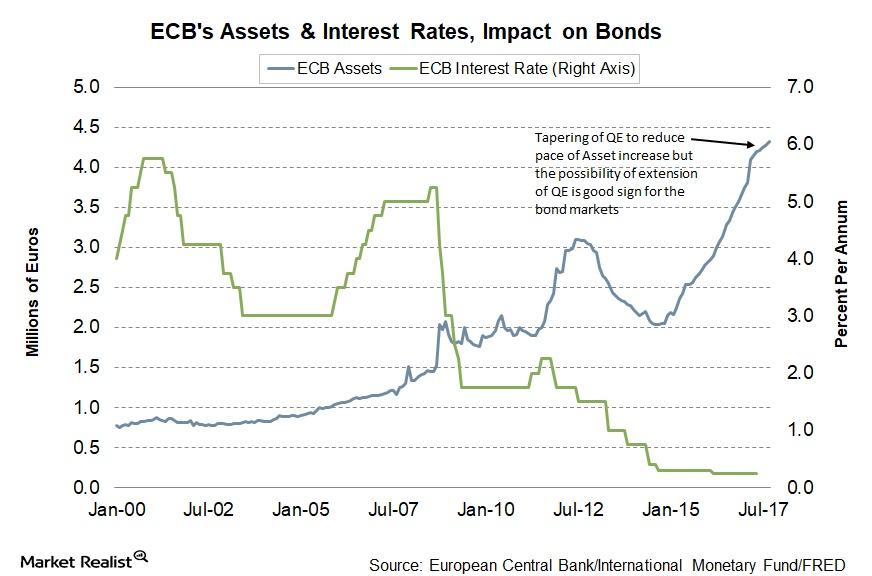 Analyzing the European Central Bank's October Statement
ECB statement supports bonds
The ECB's (European Central Bank) October statement could be good for the region's bond markets. The extension of the bond-buying program and the announcement of reinvestment of maturing bonds are both positive for the bond markets, especially for the peripheral countries' bond markets. The ECB's other open market operations like the main refinancing operations and long-term refinancing operations will likely continue. Both of these operations target supporting the peripheral and corporate bond markets.
Article continues below advertisement
Impact of the reduction in QE
The reduction in the ECB's bond-buying program will likely have a mixed impact on the bond markets of countries in the European Union. The reason for this mixed reaction is the difference in capital key, which is the share of a European Union member country in the ECB's total subscribed capital. The current bond purchases are below this level. As a result, it probably won't have a major impact on countries' bond markets like Spain (EWP), Portugal, and Ireland. A sudden reduction is bond (BND) purchases could have widened the yield spreads between the member countries. However, the ECB's plan to extend its bond-buying program prevented any anxiety for bond markets (GGOV) in the European Union.
The European equity markets (VGK) remained positive after the statement. There shouldn't be any major drain on liquidity or a rate hike for at least another year.
Key takeaways from the ECB's statement
The ECB's dovish statement will likely be positive for the European equity and bond markets. Less political tension in Spain and continued economic progress could see more tightening from the ECB, but that wouldn't happen until September 2018. The only victim from the ECB's statement in October is the the euro (FXE). It will likely witness some long positions being unwound in the next few sessions.