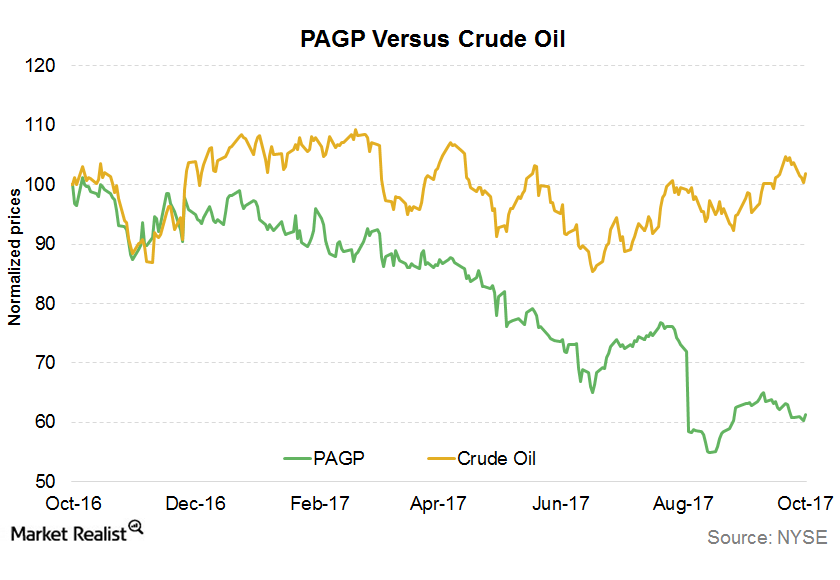 A Look at Plains GP Holdings' Correlation with Crude Oil
By Kurt Gallon

Nov. 20 2020, Updated 4:37 p.m. ET
Plains GP Holdings
Plains GP Holdings (PAGP), Plains All American Pipeline's (PAA) general partner, has the fourth-highest correlation with crude oil among MLPs. PAGP's one-year correlation with crude oil was 0.48 as of October 6, 2017. PAA, which owns most of the assets, also has a high correlation with crude oil, of 0.43. However, it is not in the top ten.
PAA's high correlation with crude oil reflects its direct exposure through its crude oil marketing business and indirect exposure through crude oil production. Crude oil production growth drives PAA's throughput volumes. Crude oil production, to some extent, is driven by crude oil prices. However, despite crude oil volatility, US crude oil production has continued to grow. According to the recent inventory report by the EIA (U.S. Energy Information Administration), US crude oil production was 9,561 thousand barrels per day on September 29, 2017, which is a 26-month high. For details, read
Article continues below advertisement
PAGP may have a higher correlation with crude oil than PAA because of its dependence upon PAA for distribution income. PAGP earns distribution income through its limited partnership interest in the partnership. PAA recently announced a second distribution cut due to earnings weakness, which was mainly due to crude oil price volatility.
Impact of crude oil volatility on PAA's earnings
Crude oil production has stayed strong despite crude oil price volatility. However, crude oil volatility affects PAA's earnings through its supply and logistics segment. According to Greg Armstrong, PAA's CEO, "Unfortunately, we continue to experience significant downward pressure in our margin-based Supply and Logistics segment. As a result, we updated our full-year 2017 Adjusted EBITDA[1.earnings before interest, tax, depreciation, and amortization] guidance and our 2018 preliminary forecast. The updated 2017 guidance reflects a downward revision of $185 million, or 8%, primarily associated with the Supply & Logistics segment. Our 2018 preliminary forecast now includes a range with respect to our Supply & Logistics segment, from $100 million to $300 million."
Analysts' recommendations
Approximately 52.2% of analysts surveyed by Reuters rate Plains GP Holdings a "buy," while the remaining 47.8% rate it a "hold." PAGP's average target price of $27.40 implies an ~18% upside potential based on its current price. In the next article, we'll look at the correlation between Hi-Crush Partners (HCLP) and crude oil.